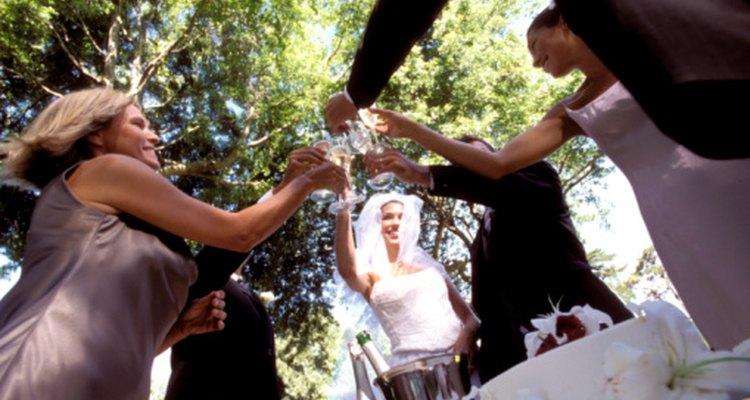 Pixland/Pixland/Getty Images
Offer an open bar at your wedding to provide the best possible hospitality for your guests. To save on costs, enlist a friend or family member over the age of 21 to tend bar at the reception. Keep the task as manageable as possible by limiting the drinks served. Provide a selection of soda, two or three beers, one red wine and one white wine, as well as three to four signature cocktails that use a total of four to five different spirits. Provide cocktail recipes and supplies to your bartender several weeks in advance so he can practice making the drinks.
Reserve a reception location that allows you to provide your own bar. Some locations require that you use the onsite bartender, so ask about catering your own drinks before placing down your deposit. Similarly, check with your caterer to find out if he requires you to use his own bar services. This is less common than facility requirements.
Obtain an alcohol permit. Many city, county and state legislations allow you to purchase a single-day special event permit for a wedding. This can be as simple as applying for the license, indicating what will be served to how many people and paying a fee.
In some areas, the process can be much more demanding, requiring the bartender to take a food handling class and paying a large fee that negates the savings from using your own bartender. Contact your city or county to begin the process six months in advance of the wedding.
Plan your drinks menu. Decide on one light white wine, such as a chardonnay or a pinot gris, and one red wine that goes with the main dish on your menu. For the most savings, choose beer that can be purchased in kegs. Finally, decide on the cocktails you will serve. Pick one or two main alcohols, such as rum and vodka to build your cocktail list around. This will streamline the amount of alcohol you need to purchase.
Calculate the amount of alcohol and related garnishes you need. For 100 guests, plan for two to three cases of each white and red wine, and one keg each of three types of beer. You also need about 15 one-liter bottles of spirits, divided by your chosen recipes, and enough non-alcoholic drinks to serve non-drinkers.
Rent bar tools and glasses, and order cocktail napkins to match your wedding decor several weeks before the wedding. Plan for three assorted glasses and napkins per guest, plus flutes for the wedding toast.
Purchase your liquor. For large quantities, you may need to show your liquor permit when purchasing, depending on local regulations.
Order ice. If your location has a freezer, plan on holding the ice there. Otherwise, pick up the ice as close to serving time as possible and store in several large coolers.
Arrive early to set up the bar area and get comfortable with the location of different beverages and garnishes. Attach the tap to the kegs and chill the champagne.
References
Writer Bio
Nadia Nygaard has been writing and editing since 2005. She is published in "Farm and Ranch Living" and has edited projects as diverse as grant proposals, medical dissertations and tenant law handbooks. She is a graduate of the University of Washington with a Bachelor of Arts in English and women's studies.
Photo Credits
Pixland/Pixland/Getty Images