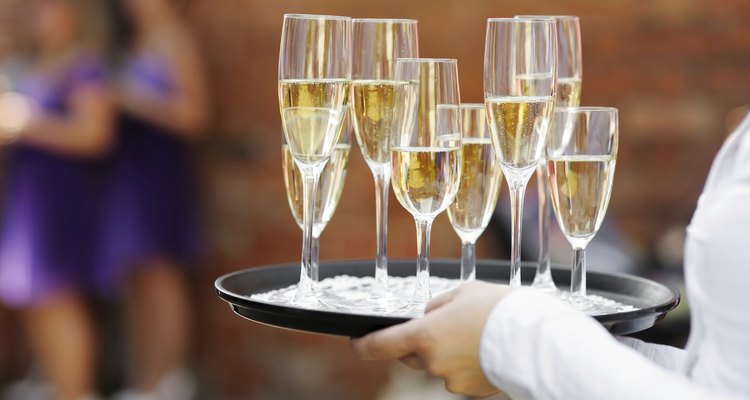 maximkabb/iStock/Getty Images
Controlling costs when choosing wedding reception food, entertainment and drinks challenges most couples, especially when they want to include an open bar. Although an open bar lets guests have as many drinks as they want compliments of the bride and groom, it can eat up to one-fourth of a wedding's catering budget, according to information compiled by Piccolo Trattoria Catering of Pennsylvania. However, couples have options that can shave dollars off the final price without affecting the party's atmosphere.
Watch Your Guest Count
The average U.S. wedding incurs $11,230 in venue, catering and related rental expenses, with more than half of all couples spending $1,834 to $3,056 for reception bar service, according to The Wedding Report. Total reception cost per guest ranges from $164 to $204, an indication that limiting the size of your guest list can help to control open-bar expenses. Some venues, such as hotels, include liquor in their packaged deals and charge a per-person fee for an open bar. Caterers with a liquor license quote bar service as a per-person fee separate from the per-guest food charge, while unlicensed caterers usually charge by the bottle.
Understand Bar Basics
Knowing a bit of open-bar math can help you compare vendor quotes with another option -- providing your own alcohol. Some facilities and caterers welcome clients who want to stock their reception bar, but charge a fee per bottle opened. Plan for one drink per adult per hour for your reception. If you start with a cocktail hour, add another two drinks per adult. A basic full bar would be stocked with 20 percent liquor, 15 percent beer and 65 percent wine plus soft drinks and mixers, according to A Practical Wedding, a website that offers ideas for the modern wedding. An open bar at a four-hour reception with 100 adult guests would serve 400 drinks. Using the recommended ratio, you would need 260 glasses of wine or 52 bottles, 60 beers and enough hard liquor for 80 drinks.
Limit Selections
A limited open bar can prove to be an economical choice. You can limit the selection of alcohol to beer and wine, for example. You also could opt to offer only one liquor, such as scotch, with choices of wine and beer. One out of five couples adds a signature drink to their wine and beer menu. Limited bars can also have limited hours, with signature cocktails available before and after the meal, and wine or beer served at the table by wait staff. By giving your guests the choice of either a red or a white wine, and either a lite or regular beer, you lower your cost.
Be Frugal
Your guests won't remember the brand of liquor used to make their drink, so don't feel obligated to choose name brands that carry high price tags. Nor will they appreciate having expensive wine in their glasses, unless they're wine connoisseurs. If possible, consider purchasing box wines but serving the wine out of carafes for appearance. Instruct the wait staff to ask before refilling as they move about the tables to avoid opening bottles unnecessarily. Always confirm the vendor's return policy to avoid paying for alcohol that isn't used.
References
Writer Bio
Trudy Brunot began writing in 1992. Her work has appeared in "Quarterly," "Pennsylvania Health & You," "Constructor" and the "Tribune-Review" newspaper. Her domestic and international experience includes human resources, advertising, marketing, product and retail management positions. She holds a master's degree in international business administration from the University of South Carolina.
Photo Credits
maximkabb/iStock/Getty Images