Digital Vision./Photodisc/Getty Images
Putting on a fun fair can be a popular, enjoyable way to raise funds for your organization, but it requires a lot of work to be successful. School, church and community fairs are typically organized and manned almost entirely by volunteers. Keeping them focused and on task is occasionally like herding cats. Start at least six months in advance of your planned event, assign responsibilities to key volunteers, determine games, activities and food needs and plan your budget accordingly.
Fair Logistics
mprytherch/iStock/Getty Images
The biggest challenges of planning a fun fair are picking a venue and establishing a budget and financial goals. If you're planning a school fair, the gym, cafeteria and playground are likely options, and often cost little to nothing to use. Hold a church fair in the fellowship hall or parking area; however, small churches may need to reserve space at a community center or local park. Ensure the location you select is affordable and safe, and able to accommodate the rides and activities you're planning. Verify there is sufficient access to power sources, kitchen facilities, bathrooms and parking. Determine what, if any, security arrangements are needed and obtain any required permits.
Rides and Games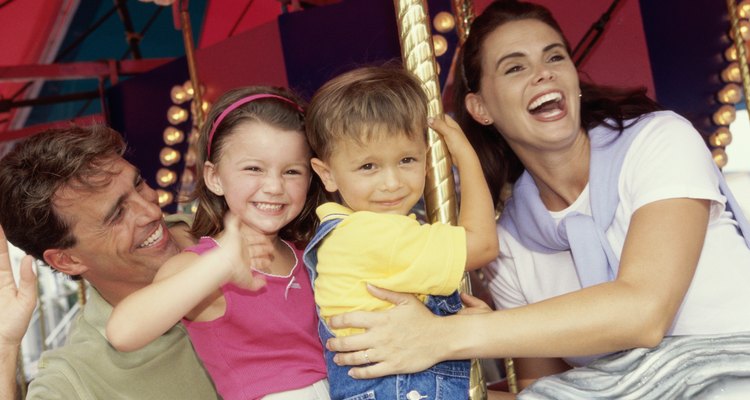 Purestock/Purestock/Getty Images
The entertainment focus of your fair is the rides and games. If you're renting these from a carnival company, check the safety records and the backgrounds of their personnel. For a school fun fair, you can organize or build your own games, particularly for elementary age kids, though you might want to rent a bounce house or dunk tank. Set up a wading pool duck pond; hang a curtain for fishing for prizes; make a bean bag toss; use the gym for basketball free throw contests, a putt-putt golf hole, pop-bottle bowling and the cake walk; and tables for activities such as the lollipop pull. Make posters advertising each activity and provide small prizes for the participants.
Food and Amenities
Kouptsova/iStock/Getty Images
Food is another sure-fire attraction at most fun fairs. You can hire vendors to prepare and sell the food, purchase prepared food from local restaurants, or buy food to be cooked and sold by fair volunteers, depending on your available budget and the organization's fundraising goals. Offer a variety of local favorites, focusing on items that are relatively quick and simple to prepare. Foods that fair-goers can eat while wandering around are typically popular. Hot dogs, wraps, burgers, gyros and sandwiches are staple fair food, along with popcorn, chips, baked goods and ice cream or snow cones. You'll need large quantities of disposable plates, cups, napkins and flatware, along with lots of large trash cans and liners.
Preparation, Personnel and Prices
MarkTantrum/iStock/Getty Images
Leading up to the fair, assign volunteers to advertise the fair, get sponsors and donations, acquire permits and work with vendors. For fair day, be sure you have enough people to man every activity and installation, including the food booth and game and ticket sales kiosk. Assign and post shifts for each booth, including sufficient volunteers to help with setup and cleanup. Before the fair, the organization's treasurer works with volunteers to establish prices, which should be prominently posted throughout the venue. Prices can be a set number of tickets per ride or activity, or a set price wristband good for all activities. This group also oversees ticket sales and ensures all monies are collected and accounted for.
References
Resources
Writer Bio
As a national security analyst for the U.S. government, Molly Thompson wrote extensively for classified USG publications. Thompson established and runs a strategic analysis company, is a professional genealogist and participates in numerous community organizations.Thompson holds degrees from Wellesley and Georgetown in psychology, political science and international relations.
Photo Credits
Digital Vision./Photodisc/Getty Images