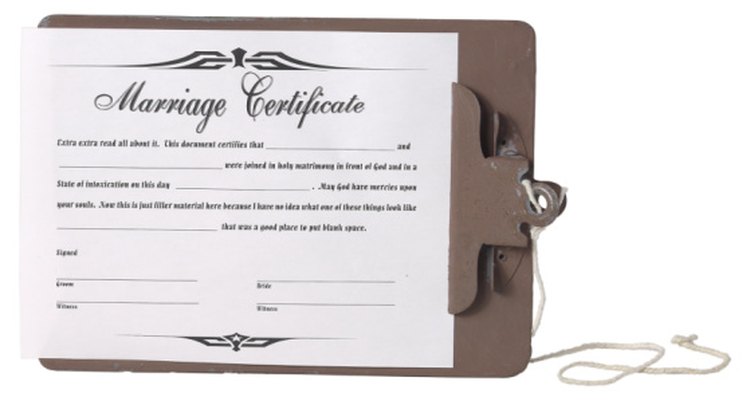 Hemera Technologies/PhotoObjects.net/Getty Images
If spending thousands of dollars planning a big, white wedding doesn't appeal to you, or you and your fiance don't want a religious wedding ceremony, a civil ceremony performed by a justice of the peace might be the ideal solution. In San Diego, you can be married by a justice of the peace at the downtown County Administration Center. Ceremonies are performed indoors and outside overlooking the San Diego Bay.
Call and make an appointment to apply for a marriage license and to arrange a date for your ceremony (619-237-0502). At the time of publication, appointments may be made for licenses Monday through Friday from 8 a.m. to 4 p.m., and wedding ceremonies are performed Monday to Friday, 8 a.m. to 3:30 p.m.
Let the office know whether you are applying for a confidential or non-confidential license. A non-confidential license is a standard marriage license and is public record. A confidential license can only be obtained by couples who can prove they are living together; this type of license is private and not searchable in public records.
Visit the county clerk's office with your fiance at your scheduled appointment date. Bring valid photo identification (driver's license, passport, military identification or state identification card) and the completed form for a marriage license. At the time of publication, the fee is $50 for a non-confidential license and $55 for a confidential license; cash, check, money order or debit cards are accepted.
Choose a witness for your ceremony if you have a non-confidential marriage license (confidential license marriage holders do not need a witness) and invite any guests you wish to attend the ceremony.
Bring your marriage license, along with the civil ceremony fee (at time of publication, the fee is $50) to the County Administration Center on your wedding day.
Participate in the marriage ceremony performed by the justice of the peace. He or she will sign the marriage license after the ceremony and return it to the county office; processing of the final marriage certificate takes about two weeks.
References
Writer Bio
Based in Philadelphia, Eliza London has been a freelance writer since 2004. Her work has appeared in business and retail trade magazines, as well as on numerous websites. London holds a Bachelor of Arts in journalism from Susquehanna University.
Photo Credits
Hemera Technologies/PhotoObjects.net/Getty Images