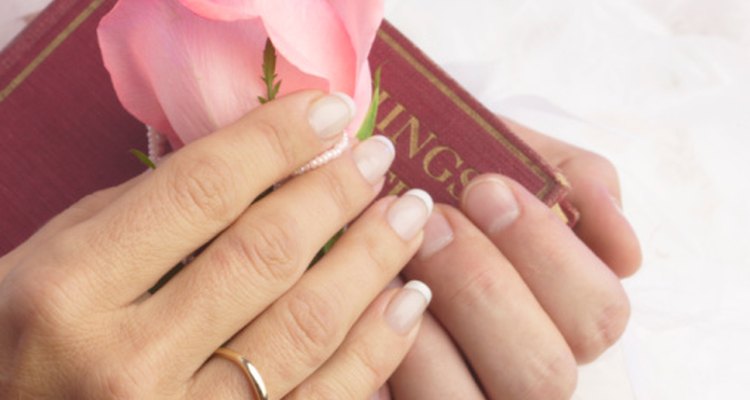 Hemera Technologies/AbleStock.com/Getty Images
A wedding officiated by a justice of the peace is just as solemn and binding a contract and commitment as one performed in a church or by a clergyman. There are, however, many steps that need to be taken leading up to and following the wedding ceremony in order to make the marriage legal and binding. Although the laws and steps may differ from state to state and even town to town, by visiting the state or city website or actual town hall, such as the town clerk's office in Hartford, Connecticut, you can find the representatives who can help you facilitate the process.
Contact and schedule appointments with justices of the peace that are certified to perform weddings in the state of the Connecticut. Depending on where you live in Connecticut, you could be very close to the New York or Massachusetts border. Because of this close proximity to other states, the officiants you meet at bridal expos or come across on wedding directories could reside in other states. As long as an officiant is certified in Connecticut, he can perform the ceremony.
Interview the officiants to find one that is a match for you and your fiance. Verify that he is available to be in Hartford at the date and time of your wedding day. Discuss the fees for his services and pay the amount or deposit that he requires.
Fill out the marriage license application and include the name and contact information of your wedding justice of the peace. The wedding application in Connecticut is valid for 65 days, however, it is recommended that you apply for it approximately a month before your wedding date.
Pay the $30 fee that must accompany a Hartford, Connecticut marriage license, as of 2011. Once the forms are filled out by you and your fiance and the fee paid, you may be able to pick up the license from the town clerk that day. If not, return to pick up the license when it is ready.
Give the marriage license to your justice of the peace on your wedding day so he can fill out his portion after the wedding ceremony. The justice of the peace then returns the license to the Hartford Town Clerk so it can be processed. Once it is processed, it is known as a marriage certificate.
Writer Bio
Michelle Barry graduated from Salve Regina University with a Bachelor of Arts in English. Since then, she has worked as a reporter for the Wilbraham-Hampden Times, an editor for Month9Books and Evolved Publishing, editor and has spent the past seven years in marketing and graphic design. She also has an extensive background in dance.
Photo Credits
Hemera Technologies/AbleStock.com/Getty Images