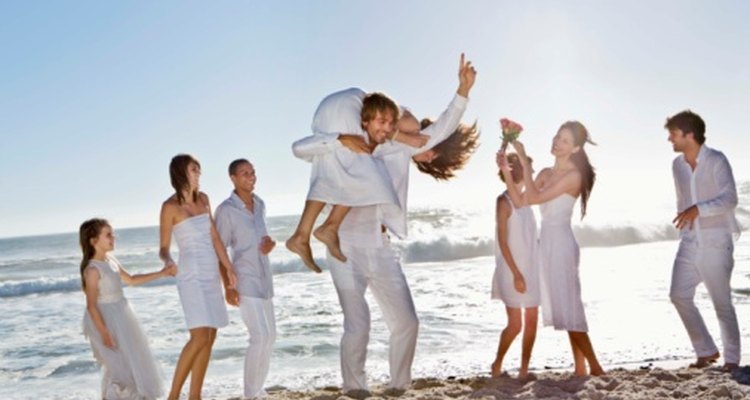 Jupiterimages/Polka Dot/Getty Images
Getting married by a Justice of the Peace in Washington State is an uncomplicated affair, but does take time and planning. You must obtain a marriage license before getting married, for which there is a three day waiting period. You also must book an appointment to get married by a Justice of the Peace. Leave plenty of time for these administrative tasks so that your wedding day is a special one.
Obtain a marriage license before you get married. You can get one from the clerk of the court's office. There is a three day waiting period. It is advisable to apply at least one month before the wedding date. Obtaining a marriage license does not mean you are married. The clergy member or Justice of the Peace that officiates your wedding must sign the license to validate it.
Take a recognized form of ID to the clerk's office. This includes a driver's license, birth certificate or passport. Both you and your partner need to apply in person and at the same time. If you have been married before, the divorce must be finalized and the papers filed. You do not have to be a resident of Washington to get married there.
Pay the fees which are usually around $62 as of 2011, but vary from county to county. If you are between 17 and 18, you must have a parent or guardian present. To be married under the age of 17, a superior court judge, from a county where one of the applicants resides, will have to waive the minimum age requirement. Emancipated minors will have to apply to the court for permission to marry. Papers from the court giving permission for the emancipated minor to marry will have to be presented upon application.
Book a time and date for the wedding with the clerk of the court's office. You must get married within 60 days of obtaining a license. There will be a fee for the ceremony which will be conducted by a Justice of the Peace. This varies from county to county and must be paid upon booking. When you arrive at the court on the date of your wedding, you must bring your ID and marriage license. You will also need one witness.
References
Writer Bio
Nicole Fotheringham has been a writer since 1997. She was born in South Africa and began as a reporter for the "Natal Mercury" and "Cape Argus" newspapers. Fotheringham has a master's degree in English literature from the University of KwaZulu-Natal.
Photo Credits
Jupiterimages/Polka Dot/Getty Images