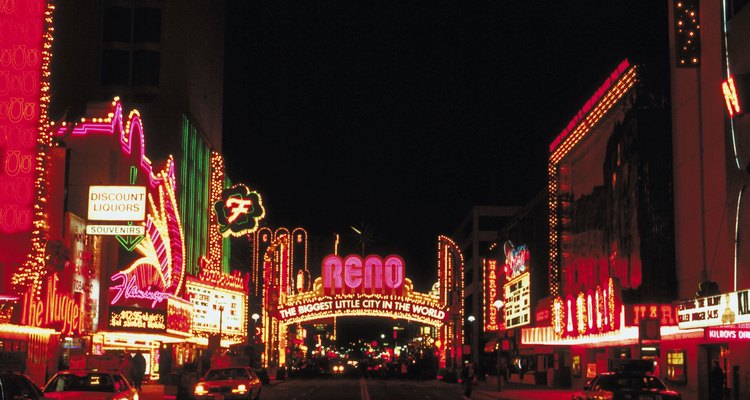 Jupiterimages/Photos.com/Getty Images
Getting married in Reno, Nevada, may not have all the tacky glitz and glamor that go along with getting hitched in Las Vegas. However, quick, easy weddings are still possible under state law. There are no blood tests, and no waiting periods, and extended hours to make marriage certificates official. Reno also has a healthy selection of flower-bedecked chapels if you're looking for some kitsch along with your hitch.
Bring two proofs of identity. These can can be a passport, driver's license, state identification card, birth certificate, military ID card, citizenship certificate, temporary or permanent resident card or naturalization certificate. You do not have to be a resident of Nevada, and you do not have to present any divorce papers. You do need to know the city, county or state of a divorce filing and the date it was finalized.
Go to the Washoe County Courthouse, located at 1001 E. 9th St., with your partner to get your license. The courthouse is open from 8 a.m. to midnight every day of the year. As of 2011, the license cost is $60 (only cash is accepted as payment). Licenses are also available at the marriage bureau offices at Incline Village at 893 Southwood Boulevard, but that office is only open 8 a.m.-5 p.m. Monday through Friday, and closed on holidays. Also, Incline Village only accepts Visa or MasterCard as forms of payment.
Have a ceremony performed by a licensed officiant within one year. The courthouse has some material if you're interested in having a ceremony at a wedding chapel that day or night. Those chapels do charge their own fees. You can also have the wedding at the Commissioner of Civil Marriages, which is two blocks from the courthouse at 350 South Center Street, Suite 100. That option is by appointment only (call 775-784-7272), from 2-4 p.m. Monday through Friday, and closed on holidays. The commissioner will sign and file the license, but you must provide at least one witness. The cost is $50.
Request a certified copy of the marriage certificate from the Washoe County Recorder's Office in person, by mail or online. The office is at 1001 E. 9th St., Building A, Room 150. Download the request form online from the Washoe County website and mail to Washoe County Recorder, Post Office Box 11130, Reno, Nevada, 89520-0027. The cost is $10.
References
Writer Bio
This article was written by the CareerTrend team, copy edited and fact checked through a multi-point auditing system, in efforts to ensure our readers only receive the best information. To submit your questions or ideas, or to simply learn more about CareerTrend, contact us [here](http://careertrend.com/about-us).
Photo Credits
Jupiterimages/Photos.com/Getty Images