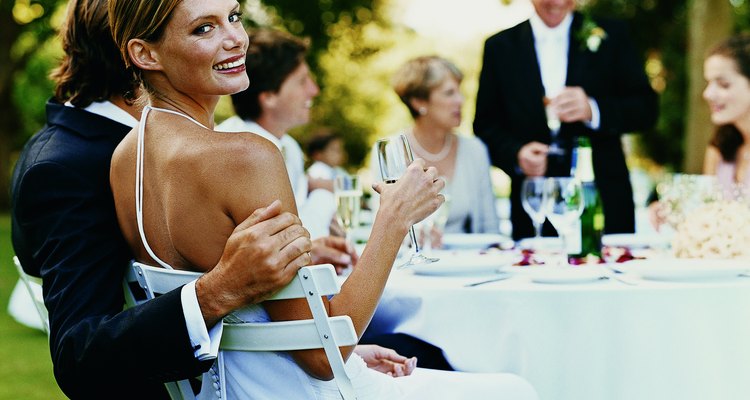 Digital Vision./Digital Vision/Getty Images
While many couples choose to hold large receptions, a smaller reception is a great way to cut your wedding costs. According to The Knot, 48 per cent of the total wedding budget is spent on the reception. Catering costs account for a large part of the reception budget, so by cutting your guest count you will save a lot of money on food. If you are thinking about having a small and simple reception, there are a variety of menu options for you to consider depending on the time of day your reception is to be held.
Brunch
A brunch time reception is perfect for a small and informal wedding. Not only will you save money on the cost of the food, your guests are less likely to drink during the morning hours, which will save you money on alcohol as well. Simple brunch items could include a mixed fruit salad, pastries and quiche. Depending on your budget, you can also talk to your catering company about having a made-to-order omelet bar. Since guests are unlikely to consume large amounts of alcohol in the morning time, serve a variety of morning time beverages instead. Juice, tea, coffee, and smoothies are all appropriate options for guests of any age.
Light Lunch
A light lunch reception would be appropriate if the event is to occur between 11:00 am and 3:00 pm. A light lunch menu could be semi-formal or casual. Some ideas to consider are picnics and teas. A picnic reception could include home-style entrees and sides such as barbecued chicken and mashed potatoes or cole slaw. For beverages, serve a variety of sodas as well as ice teas. An afternoon tea is slightly more formal, and the menu could consist of small sandwiches, scones, and salad. Drinks could include hot tea, iced tea, soda and juice.
Dinner
For a seated dinner reception, serving poultry instead of beef is less expensive. A simple dinner menu could include grilled chicken or turkey breast alongside garlic potatoes, salad, and dinner rolls. If you are having a small, informal dinner, such as a backyard barbecue, barbecued chicken or ribs with macaroni salad or grilled corn on the cob is an appropriate option.
Photo Credits
Digital Vision./Digital Vision/Getty Images