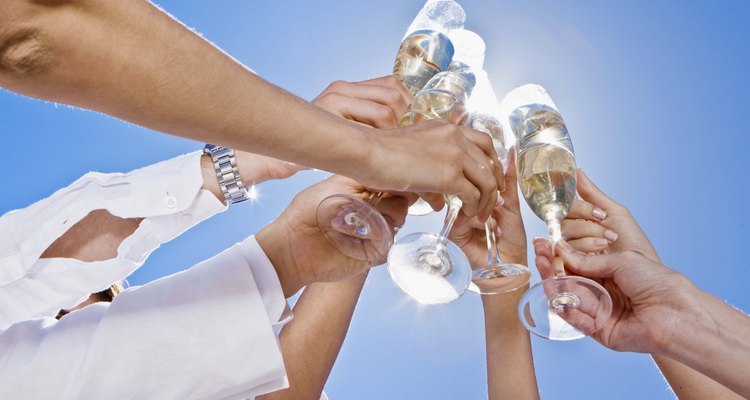 Jupiterimages/Polka Dot/Getty Images
Wedding ceremonies are heartfelt, touching and often quite serious. Follow an earnest ceremony with an exciting wedding reception to celebrate the occasion; it is the duty of the bride and groom to provide their guests with engaging entertainment, such as games, shows and performers. If your wedding is a Christian one, choose entertainment that is appropriate for the religious beliefs of your guests.
Hire a performer, such as a band, comedian, disc jockey, magician or dance troupe. Choose entertainers that perform appropriate content and avoid profanity, costumes that leave little to the imagination and dark humor. If you are hiring a band, opt for one that performs Christian music.
Rent, or purchase, a chocolate fountain. Chocolate fountains will appeal to guests with a sweet tooth, and are sure to be a hit with any children attending your reception. Guests will enjoy dipping different foods, such as chunks of pineapple and strawberries, into the chocolate.
Play a variety of light-hearted wedding reception games with your guests. Popular games that are appropriate for a Christian event include G-rated trivia regarding the bride and groom, musical chairs and dance competitions.
Stage a fireworks show that will awe guests of all ages. Employ a family friend to help it go off without a hitch or, if the wedding budget allows, hire a fireworks company.
Rent a photo booth for your wedding reception. People from all walks of life enjoy taking photographs that capture the fun and spontaneity of an event as special as a wedding. Guests can take the pictures, which print instantly, home with them.
References
Photo Credits
Jupiterimages/Polka Dot/Getty Images