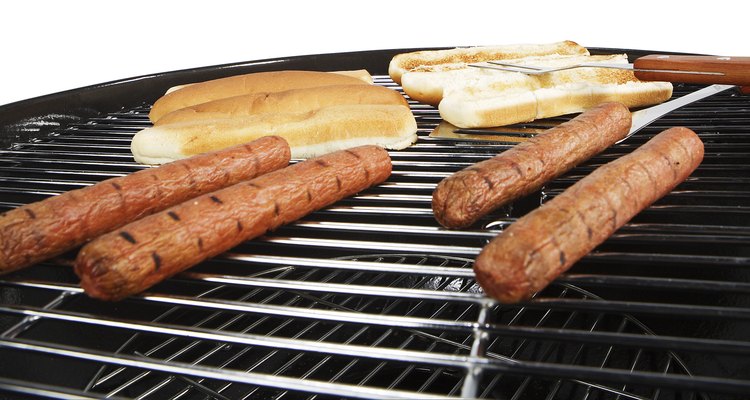 NA/PhotoObjects.net/Getty Images
The word "barbecue" conjures up images of casual spreads of meat and casual outdoor gatherings, but a barbecue wedding reception does not have to be completely informal. Whether you are planning a backyard bash or a reception at a local ranch, park or barbecue restaurant, there are many chic touches you can add to make the event elegant and memorable. The barbecue will satisfy your guests' appetite while the decor will make the event special.
Select a high quality menu. To make a barbecue elegant, avoid standard fare like hamburgers and hot dogs and serve brisket, chicken or tri-tip. Choose dainty side dishes, such as individual corn puddings served in crystal ramekins, over deli potato salad or coleslaw.
Use the best quality serving dishes, plates, glasses and utensils. For the sake of economy, you may need to use disposable flatware and plates, but select sturdy, cleanly-designed versions. Avoid floppy paper plates or cheap, thin napkins. If possible, use silver and crystal for the serving dishes and utensils to give the buffet an elegant appearance.
Cover tables and benches with high quality linens. Even inexpensive folding tables , benches or bales of hay can appear elegant under a beautiful table cloth. To save money, rent from a catering or party company or borrow from friends and family.
Decorate with ribbon, fresh flowers and plenty of light. Transform your own backyard into a beautiful and enchanted reception with rows of sparkling white holiday lights hung over the fences and tea light candles on all the tables. Vases of fresh flowers tied with satin ribbons turn your neighborhood barbecue restaurant into a lovely place for your wedding dinner.
Distribute bottles of barbecue sauce or small glass jars of barbecue spice rub as wedding favors. Print out personalized labels for each bottle with your monogram or name and wedding date for a classy but useful favor for your guests.