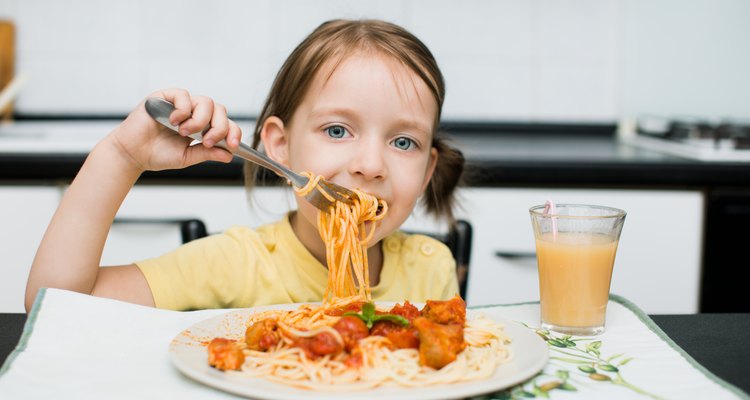 kolinko_tanya/iStock/GettyImages
Make a Nutritious Meal That Picky Eaters Won't Be Able to Turn Down
A mom knows that mealtime is usually a balancing act between fixing something that's nutritious for the kids and making something that they'll actually eat. Thankfully, the two don't have to be mutually exclusive. Modify your kids' favorite foods, whether it's mac and cheese or chicken tenders, to make them slightly healthier. You might have to hide the vegetables in some dishes, but it's a win-win for everyone.
1. Homemade Chicken Tenders
A freezer can be a working mom's best friend. Make homemade chicken tenders on a weekend when you have a little bit of extra time, and enlist one of the kiddos to help you bread the chicken with whole-wheat breadcrumbs. Flash-freeze the tenders on a wax paper-lined sheet pan, and then pile them in a zip-top freezer bag. The next time your kids clamor for deep-fried nuggets or tenders, pull out those homemade chicken tenders and stick them in the oven. Add a side of roasted sweet potatoes and ketchup to meet your kids' cries for fries.
2. Pumpkin No-Bake Mac and Cheese
The lengthy and not-so-healthy process of making macaroni and cheese becomes quick and nutritious when you keep it on the stovetop and use a can of pumpkin puree. Make your favorite no-bake mac and cheese recipe, lightening up the roux with 2 percent milk instead of whole milk or cream, and stir the pumpkin into the sauce. It gives the dish a hint of sweetness, and its color often blends well with orange cheddar cheese.
3. Quesadillas
Fill up a whole-wheat tortilla and plop it in a pan, turning it over so it gets some color on both sides, and you have a kid-friendly dinner with minimal fuss. Mix and match your favorite ingredients to come up with a combo that will please both you and your kids. Some options to try:
Monterey Jack cheese, steak strips, refried beans and corn

Cheddar cheese, chicken, avocado and black beans

Mozzarella, basil and tomatoes

Cheddar cheese, granny smith apple slices and deli turkey
4. Spaghetti and Meatballs
A classic family meal, spaghetti and meatballs can take mere minutes to make if you take a few shortcuts. Start with whole-wheat pasta for extra fiber, add jarred sauce (before you buy, check to make sure it doesn't contain added sugars) and finish it off with frozen turkey meatballs, whether store-bought or homemade. Pair it with a simple green salad for a well-rounded meal.
5. Ploughman's Lunch
When you don't have time to actually cook a meal for your child, put together an assortment of food that the British call a "Ploughman's Lunch." Traditionally, it contains a hunk of bread (make it whole-wheat), some cheese and a pickle—all kid-friendly foods. Add an apple for some extra vitamins and minerals, plus a hardboiled egg for more protein.
6. Breakfast All Day
Who says eggs are only for breakfast? They make an easy, healthy meal at all times of the day, and kids don't typically argue with the novelty of enjoying breakfast foods at odd hours. Stuff an omelet with veggies—you could even let your kids pick out their own combinations—and serve it with a side of fruit or turkey sausage.
References
Resources
Writer Bio
Kelsey Casselbury is a freelance writer and editor based in central Maryland. Not only a freelance writer, editor, and designer, she is also a mom of a preschooler, a volunteer for two nonprofit organizations, and an avid reader, cook, and piano player. She has a bachelor's degree in journalism from The Pennsylvania State University.