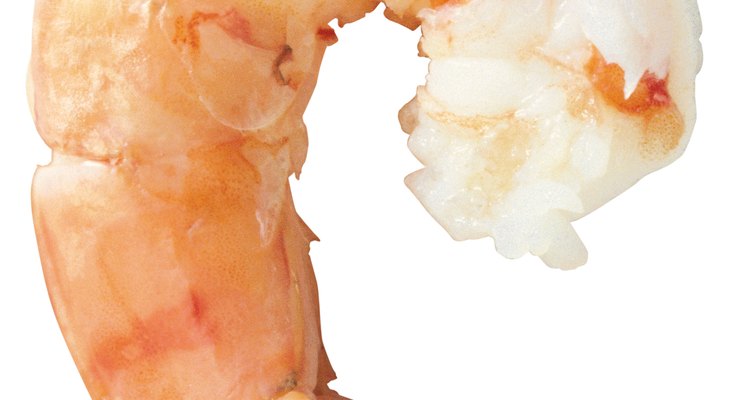 Comstock/Comstock/Getty Images
If you're lucky enough to live in an area where live shrimp is available, take advantage of their freshness and flavor to make your family a variety of shrimp dishes. Bring a large pot of water to boil. While the water is heating, rinse the shrimp in a colander. Toss the shrimp into the rapidly boiling water. For boiled shrimp, cook until the flesh turns pink. If you are planning to grill, fry or saute the shrimp, cook them for about 2 minutes so they are slightly undercooked. Remove the shrimp from the water, and remove the heads and shells. If you are working with larger shrimp, devein the shrimp before continuing with your recipe.
Boiled Shrimp
If you need a tasty and guilt-free appetizer, go with boiled shrimp. Your family can munch on these low-calorie treats without filling up. Add cocktail sauce for flavor, or serve tartar sauce or creamy dressing. If you're serving boiled shrimp as a meal, pair it with something substantial and easy to eat, especially if you're leaving the tails and heads for your family to peel. Try asparagus risotto for a satisfyingly creamy side dish. Mask the veggie flavor for picky kids with melted Parmesan cheese on top. Or serve the boiled shrimp atop mixed greens with plenty of fresh grilled vegetables and croutons. Add garlic dinner rolls and a light creamy dressing to complete this nutritious meal.
Grilled Shrimp
Grilled shrimp is a tasty and versatile main dish that works well with nearly any seasoning. If you want to slip some seafood into your meat-and-potatoes diet, grill shrimp and toss it with whole-wheat penne pasta and garlic-lime seasoning and either olive oil or creamy salad dressing. The zesty flavor will be a big hit. For an easy-to-eat mealtime option, spear the shrimp along with some veggies and grill the skewers. Serve with brown rice and low-sodium soy sauce and sesame seed oil. Your family will enjoy trying a familiar food with a new twist.
Fried Shrimp
Kids tend to love anything fried, but you need to make your own breading and pair it with a healthy side to ensure the fat and calories don't get out of control. Brush the shrimp with olive oil and lightly coat it with homemade wheat bread crumbs. Mix the bread crumbs with garlic powder or ranch seasoning mix for a stronger flavor. Pan-fry the shrimp until golden and serve it with a kid favorite, like applesauce, homemade macaroni and cheese, whole-wheat pasta or French fries. You could also serve pan-fried shrimp as a snack with a fat-free Italian or ranch dressing. Avoid deep-frying the shrimp and adding hundreds of unnecessary calories to your meal.
Sauteed Shrimp
Sauteing your shrimp will help lock in whatever flavor you choose and help mask the shrimp's natural smell. Serve sauteed shrimp with roasted vegetables. Lay chopped zucchini, carrots, Brussels sprouts, bok choy and onions on a sheet of tinfoil and brush them with olive oil. Roast them until they're crispy. Make this dish more kid-friendly by drizzling a creamy dressing on top of the shrimp and veggies. For a heartier meal, serve the shrimp with homemade garlic mashed potatoes, a deli-made cold seafood salad or black beans and rice. Season the black beans with a dry salad dressing mix for a kid-pleasing dish. Remember to saute the shrimp with an appropriate flavor; kids may shy away from anything unusually or too strongly flavored.
References
Writer Bio
Kate Bradley began writing professionally in 2007. She holds a Bachelor of Arts in international studies and a minor in German from Berry College in Rome, Ga; TEFL/TESOL certification from ITC International in Prague; and a Master of Arts in integrated global communication from Kennesaw State University in Kennesaw, Ga.
Photo Credits
Comstock/Comstock/Getty Images