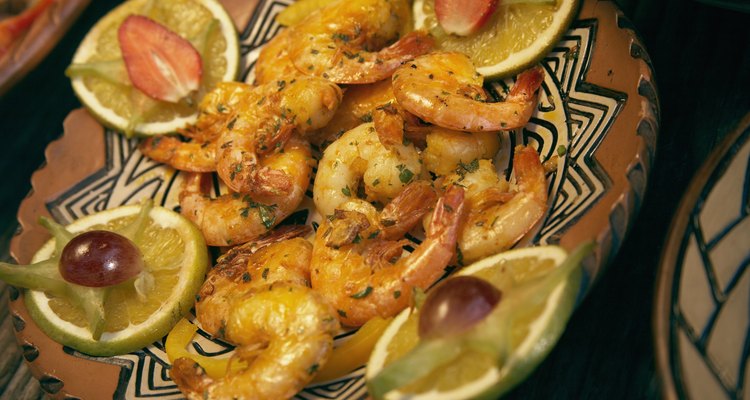 Kim Carson/Photodisc/Getty Images
Shrimp are not only delicious, they're also packed with protein, are low in saturated fat, and contain essential nutrients like iron and vitamin B-12. Still, many families reserve it for restaurants because experiences with home-cooked shrimp have been less than successful. Improperly cooked shrimp can be rubbery and flavorless. The right cooking methods can turn that problem around and help you produce juicy, tender shrimp dishes that can go from freezer to table faster than any other meat.
Broiling
According Alton Brown, host of hit Food Network show "Good Eats," shrimp retain more flavors and juiciness when cooked under high, intense heat. If you have ever boiled shrimp, you may have found out for yourself that boiling water does nothing to flavor shrimp; rather, the shrimp flavors the water, and then you pour all that flavor down the drain. Instead of putting on a pot of water when making shrimp cocktail, heat up your broiler. Serve the shrimp with your favorite cocktail sauce. If your kids aren't fans of spicy cocktail sauce, offer them a creamy salad dressing for dipping, such as ranch or Caesar.
Grilling
Like broiling, grilling provides the high, intense heat necessary to capture the best flavors of the shrimp. Try marinating your shrimp for 15 minutes in an Italian, vinaigrette or creamy chipotle dressing before cooking. Don't remove the shells before cooking, as they can help protect the delicate shrimp from flames and flare-ups on the grill. Keep shrimp from falling through grill grates by putting them on skewers, spacing them out a little so they cook evenly. Bon Feu's website recommends sprinkling shrimp with salt and pepper, then basting it with olive oil or lemon juice as you cook it. Grilled shrimp is tasty when accompanied by grilled vegetables drizzled with creamy dressing, or alongside a choice steak for a surf-and-turf dinner.
Sauteing
Another quick and flavorful way to cook shrimp is saute. You can use butter or any type of vegetable oil, but olive oil is a heart-healthy choice for sauteed meals. Toss them frequently to prevent sticking and burning and ensure they cook evenly. For an Italian-style scampi, throw in some chopped garlic and parsley to flavor it, and a little salt for seasoning. For an Asian flair, sprinkle in some Chinese 5-spice seasoning, a splash of orange juice and soy sauce. For a kid-friendly flavor, saute the shrimp in olive oil and sprinkle with ranch-flavored dry mix. Sauteed shrimp can be served over any type of pasta, noodles or rice.
Steaming
Don't let all those shrimp heads, shells and tails go to waste, because that's where most of the flavor of the shrimp resides. You can make the most of the scraps by boiling them in water to create a shrimp stock. In turn, you can then infuse all that good flavor back into your shrimp by steaming it with the stock, notes Chef Todd Mohr. Cool your steamed shrimp to add to salad greens topped with ranch dressing, or whip up a seafood salad with some mayonnaise and seasonings or a creamy dressing for a refreshing sandwich. As a bonus, you can also use shrimp stock as a base for sauces in other seafood dishes, or add it to seafood stews and soups.
References
"I'm Just Here for the Food"; Alton Brown; 2002
Photo Credits
Kim Carson/Photodisc/Getty Images