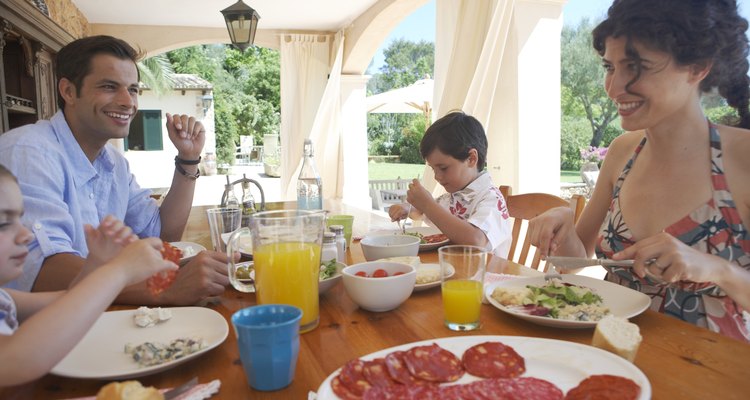 Goodshoot RF/Goodshoot/Getty Images
It's lunchtime, and the last thing you want to do is heat up another pseudo-healthy frozen meal. Whether you're feeding just you or your whole family, you need varied and nutritious lunch options that are both easy and quick to prepare. Before you reach for the takeout menu again, consider a few sample lunch menus that will keep your wallet fat and your family thin.
On the Light Side
Keep your lunch menu light to avoid a mid-afternoon slump. Try smoked turkey with lettuce, onion and tomato on wheat bread. Spread a light ranch dressing inside for flavor. Add a side of baby carrots and celery with a cup of Greek yogurt or applesauce. If you need something sweet afterward, have a cup of fat-free frozen yogurt with sliced strawberries.
Or, toss a big bowl of romaine lettuce with cherry tomatoes, low-fat shredded cheese, raw mushrooms, edamame, boiled egg bits (without the yolk) and cucumbers. Drizzle low-fat Italian dressing, light creamy dressing, or olive oil and vinegar on top. Add a healthy but substantial finish with whole wheat pita bread and a heart-friendly olive oil spread.
Hearty and Delicious
Turn to fiber-rich foods at lunch to stay full and satisfied until dinnertime. Try a big bowl of chili. Packed with plenty of legumes and extra-lean ground beef or turkey; it's an excellent source of both fiber and protein. Pair it with small side salad topped with a creamy chipotle dressing or a handful of wheat crackers and low-fat cheese.
If you're craving something chewy and substantial, get a low-fat whole wheat tortilla and fill it with boiled chicken strips, shredded lettuce, cucumber slices, white kidney beans and shredded low-fat cheese. Add a sensible portion of a light topping like creamy dressing or barbecue or buffalo wing sauce for extra flavor. If you're still hungry, snack on apple slices with a tablespoon of peanut butter. The extra protein will help you feel fuller.
Breakfast for Lunch
The same foods that help you start your day can help you continue it. Try four scrambled egg whites on wheat toast with a side of yogurt and fresh fruit. Give the eggs some additional flavor with a ranch-flavored seasoning mix. Add two strips of bacon if you wish; it's full of protein and less than 100 calories per slice. Or, spread fat-free cream cheese on a whole wheat bagel and seal it with strawberry slices. Pair it with a boiled egg or a small bowl of grits. If you like oatmeal, try it for lunch. Sprinkle cinnamon or brown sugar on top to make it feel like a sweet indulgence. Finish with a cup of fat-free sherbet or a piece of fruit.
From the Grill
If you want something hot and fresh, don't turn to fried, greasy foods. Instead, spear your favorite vegetables and grill them for tasty skewers. Do the same with lean beef, chicken or turkey chunks. Entice your kids to eat these grilled treats by providing an assortment of dips such as ketchup, barbecue sauce, honey mustard and ranch dressing. Have a baked potato on the side. You could also do an old-fashioned grilled cheese -- with low-fat cheese and butter-flavored cooking spray, it will feel like a cheesy, gooey indulgence. Pair it with tomato soup for a divine cold-weather treat. Or, grill whole wheat quesadillas using shredded chicken or lean ground beef and chopped veggies. Top the quesadillas with guacamole, salsa, sour cream or creamy dressing. Add a cup of low-sodium chicken noodle soup.
References
Writer Bio
Kate Bradley began writing professionally in 2007. She holds a Bachelor of Arts in international studies and a minor in German from Berry College in Rome, Ga; TEFL/TESOL certification from ITC International in Prague; and a Master of Arts in integrated global communication from Kennesaw State University in Kennesaw, Ga.
Photo Credits
Goodshoot RF/Goodshoot/Getty Images