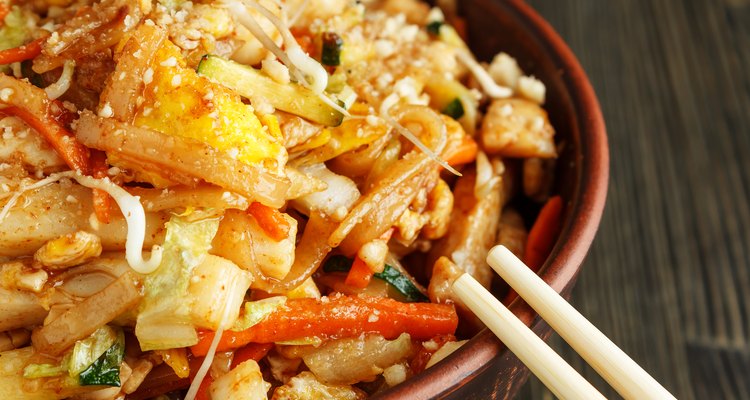 Boltenkoff/iStock/GettyImages
A Zesty Peanut and Noodle Dish That Takes Only One Pot and 35 Minutes to Make
You don't have to go to Thailand, or even a Thai restaurant, to savor some scrumptious pad Thai. This recipe contains fewer ingredients than more complicated stir-fries, and you can find them all at any grocery store. Because it uses only one pot, you'll save both cooking time and cleaning time, and more time to enjoy the flavorful dish with the family. Garnishes of fresh-cut lime wedges and cilantro sprigs add visual appeal, turning your simply-made entree into a truly gourmet treat.
Total Time: 35 minutes | Prep Time: 10 minutes | Serves: 4
1 tablespoon sesame oil

1 cup firm tofu, cut into approximately 3/4-inch cubes

2 teaspoons minced garlic

1/4 cup chopped green onions

1 egg

1 cup cooked, drained and cooled rice noodles

1/3 cup crushed peanuts

2 teaspoons sriracha sauce

1/3 cup brown sugar

2 tablespoons water

3 tablespoons soy sauce

1 cup shredded carrots

1 cup bean sprouts

2 tablespoons water

Fresh lime and cilantro (optional, for garnish)
Heat the sesame oil in a skillet or wok over medium-high heat for about a minute. Then add the tofu, garlic and green onions. Stir-fry these ingredients until the tofu is a light golden brown.

Crack the egg into the pan, and continue cooking for about 8 minutes, stirring frequently. The tofu should be coated with a bit of crispiness from the egg and brown up more.

Add the noodles, half of the crushed peanuts, sriracha sauce, brown sugar, water and soy sauce to the pan, and lower the heat, simmering for 5 more minutes.

Add the carrots and bean sprouts, then cover the pan and cook for 8 more minutes.

Stir the mixture a few times, and remove it from the heat. Serve the pad Thai warm and topped with fresh lime wedges, cilantro sprigs and the remaining peanuts, as desired.

References
Writer Bio
August McLaughlin is a health and sexuality writer and author of "Girl Boner: The Good Girl's Guide to Sexual Empowerment." Her work appears in Cosmopolitan, The Washington Post, DAME Magazine, LIVESTRONG.com and more. augustmclaughlin.com