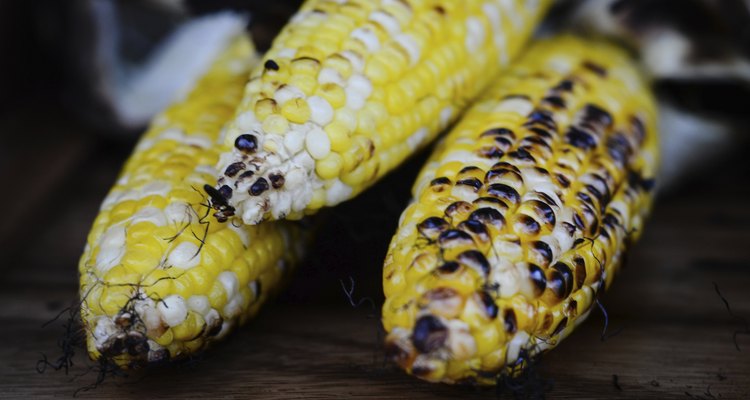 sebastianbroways/iStock/Getty Images
Enjoy the sweet taste and crunchy texture of corn on the cob all year round by roasting whole ears of corn in the oven using aluminum foil. In addition to its bright, crisp flavor, roasted corn is a good way to increase your daily fiber intake as well as supply your body with niacin, folate and vitamin A. Flavor your roasted corn with a citrus mix or spice blend for a healthy alternative to butter and salt.
Preheat your oven to 425 degrees Fahrenheit. Adjust your oven rack to the bottom setting, closest to the heat source.
Shuck the corn, removing the husk and silky strings.
Brush the corn cobs with a small amount of canola oil. Wrap each corn cob individually in a sheet of aluminum foil.
Set the foil wrapped corn directly on the oven rack and roast for 20 to 30 minutes.
Check if the corn is done. Remove a cob from your oven with oven mitts, loosen the foil wrapping and pierce the kernels with a fork. The kernels should be tender and have dark brown or black specks on them.
Remove the corn from the oven using oven mitts. Carefully unwrap the cobs from the foil and serve immediately.
References
Writer Bio
Based in Green Bay, Wisc., Jackie Lohrey has been writing professionally since 2009. In addition to writing web content and training manuals for small business clients and nonprofit organizations, including ERA Realtors and the Bay Area Humane Society, Lohrey also works as a finance data analyst for a global business outsourcing company.
Photo Credits
sebastianbroways/iStock/Getty Images