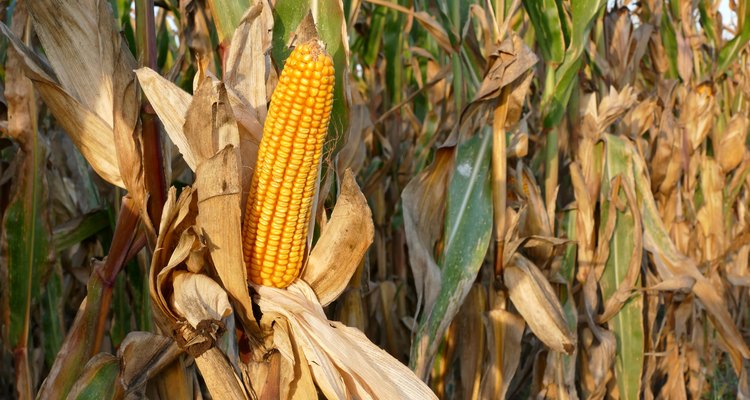 simazoran/iStock/Getty Images
Fresh, crisp whole kernel corn is a favorite addition to summer meals, but can be enjoyed all year long if you opt for frozen or canned corn. You can cook corn to serve as a side dish, or include it in casseroles, skillet dishes or salads. Experiment with new cooking methods to vary the flavor of this all-American classic.
Boiling
Boiling is the easiest way to cook fresh or frozen corn. Remove the husks and silk from fresh corn and cut away the kernels from the cob. Place one to two inches of water into a saucepan and add a pinch of sugar, rather than salt. Bring the water to a rolling boil over high heat and add the corn. Wait for the water to return to a rolling boil and immediately remove the corn from the hot water for crisp, moist kernels or allow to boil for three to seven minutes if you prefer a more tender kernel. Drain excess water and add butter to the hot corn. Salt and pepper to taste.
Roasting
Roasting corn in the oven is a flavorful alternative to boiling. Toss corn kernels with a small amount of olive oil, then season -- try cumin, chili powder, salt, pepper, garlic or your favorite spices. Arrange the corn kernels in a shallow baking pan, preferably in a single layer. Roast in a preheated 425 degree Fahrenheit oven for 20 minutes, stirring several times as the corn browns in the oven.
Skillet Cooking
Sautéed or fried corn is a rich and luxurious change from boiled kernel corn. Cut corn from the cob for the best result, or use frozen corn. Melt several tablespoons of butter over medium heat, then add the corn to the pan. Sauté until cooked through, approximately seven to eight minutes. Season to taste with salt and pepper. Add jalapeños or mild chilies for an extra flavor boost.
Corn Casseroles
While canned or frozen corn works for corn casseroles, you can also create a creamy and delicious casserole with fresh corn. Cut the kernels off of the ear with a sharp knife. Press firmly on the cob to remove as much of the juice as possible. Mix the corn with half and half, whole milk or heavy cream and butter. Allow 1/3 cup half and half and 1 tbsp. of butter per four ears of corn. Season to taste with salt and pepper, then bake in a preheated 350 degree oven for 35 to 40 minutes.
References
Writer Bio
With a master's degree in art history from the University of Missouri-Columbia, Michelle Powell-Smith has been writing professionally for more than a decade. An avid knitter and mother of four, she has written extensively on a wide variety of subjects, including education, test preparation, parenting, crafts and fashion.
Photo Credits
simazoran/iStock/Getty Images