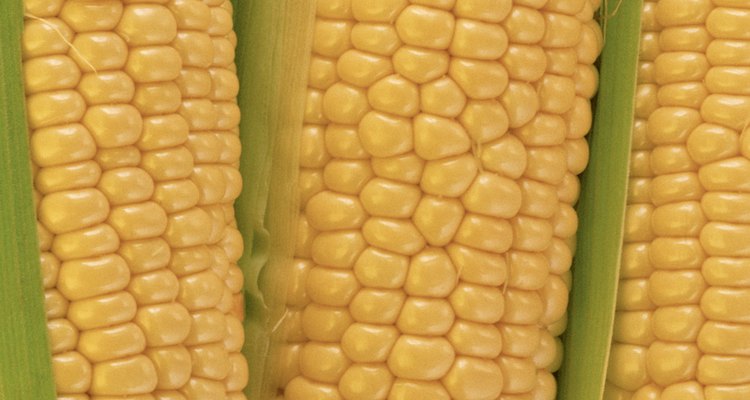 Comstock/Comstock/Getty Images
Roasting corn brings out a delightfully smoky-sweet flavor. Even if you do not have fresh corn, you can achieve good results using frozen corn either on the cob or in kernels. Using light olive oil will further enhance the flavor of this versatile vegetable without overpowering it. roasted corn can be added to a variety of dishes including soups, salsas or salads.
Frozen Corn Kernels
Preheat the oven to 400 degrees Fahrenheit.
Place frozen corn kernels in a colander in the sink and run cold water over them to defrost.
Allow the corn to drain in the colander for a few minutes.
Pour the kernels onto a baking sheet covered with aluminum foil. Toss them with olive oil and add salt and pepper to taste.
Place the pan into the oven and cook the kernels for 5 minutes. Lightly mix the corn and cook for an additional 5 minutes until it turns a golden brown color.
Frozen Corn on the Cob
Place the corn in the refrigerator and allow it to defrost for 30 minutes.
Preheat the oven to 400 degrees Fahrenheit.
Brush the corn cobs with olive oil and season with salt and pepper.
Wrap each ear of corn in aluminum foil.
Place the corn in the oven and roast for 20 minutes.
Take the corn out of the oven and partially open the foil. Cook an additional 5 to 10 minutes, allowing the corn to brown slightly.
References
Tips
Olive oil has a lower smoking point than most other oils. Use regular or light olive oil for cooking rather than the extra-virgin type.
Saute fresh chopped red pepper with olive oil in a pan for a few minutes, then add it to the corn kernels before roasting to create a quick corn relish that pairs well with grilled meat.
Writer Bio
Candi Canncel is a writer covering food and drinks, travel and lifestyle. Her work has appeared on Food and Wine Travel, Craft Gossip, Belltown Local and other publications. She also teaches cooking classes and hosts food/wine seminars.
Photo Credits
Comstock/Comstock/Getty Images