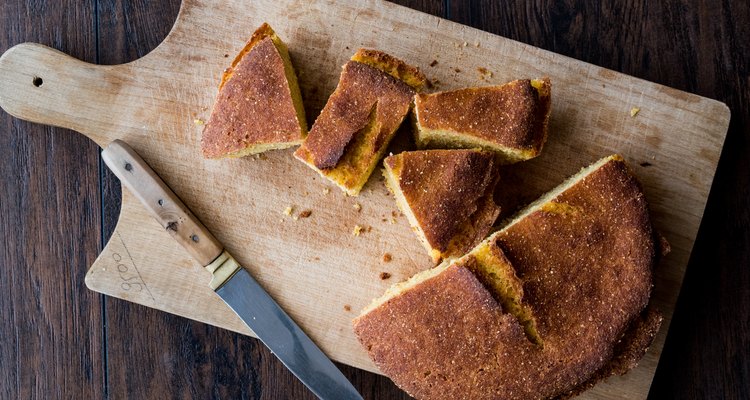 alpaksoy/iStock/GettyImages
Forget about saving your bag of masa harina just for tortilla making. Use this versatile corn flour to make cornbread and you will be happy you made the leap. Not only will you create a more complex and flavorful cornbread, but using masa harina makes this Southern favorite more easily digestible and nutrient-dense.
Masa Harina Basics
Masa harina is created by alkalinizing corn using mineral lime or culinary ash. A process developed by Native Americans, this ancient practice called nixtamalization serves many purposes such as swelling the corn to three times its natural size, allowing for easier grinding, providing more flavor and creating a more digestible product with more nutrients. The nixtamalized corn is ground while wet and then dried to create a fine flour that is markedly different from cornmeal in texture and smell.
Cornbread How-To
To create cornbread, masa harina is mixed with all-purpose flour, butter, eggs, baking powder, milk, sugar and salt. Cornbread batter is very forgiving and you can easily substitute brown rice flour, whole wheat flour or spelt flour for all-purpose flour if desired. Start with your favorite cornbread recipe and substitute masa harina for all of the cornmeal or use a mixture of cornmeal and masa harina. Mix dry and wet ingredients separately before mixing the two together until smooth.
Cooking Cornbread
Pour the batter into a greased baking pan or a cast-iron skillet. For a standard recipe, bake cornbread in a 400-degree Fahrenheit oven until it is golden brown. Insert a toothpick or sharp knife in the cornbread's center after cooking it for 20 minutes; when it comes out clean, the cornbread is done. Cool the bread for at least 10 minutes in the pan before inverting the pan onto a cooling rack and removing the cornbread. Serve warm or at room temperature. Store leftover cornbread wrapped in foil at room temperature for up to two days.
Cornbread Variations
Cornbread made with masa harina is great on its own, but sometimes you may want to dress it up a bit. Create mildly spicy cornbread by roasting a poblano pepper in your oven until its skin becomes blackened. Remove the skin, seeds and stem and dice the remaining pepper and add it to the batter. A scant half cup of grated cheddar cheese also makes a savory addition to cornbread. Substitute all or part of the butter in your recipe for bacon grease to add a further layer of complexity to your cornbread.
References
Writer Bio
Based in Portland, Ore., Maxine Wallace is a writer with more than 12 years of experience. With a bachelor's degree in journalism and experience working on marketing campaigns for large media agencies, she is well-versed in multiple industries including the Internet, cooking, gardening, health, fitness, travel and holistic living.