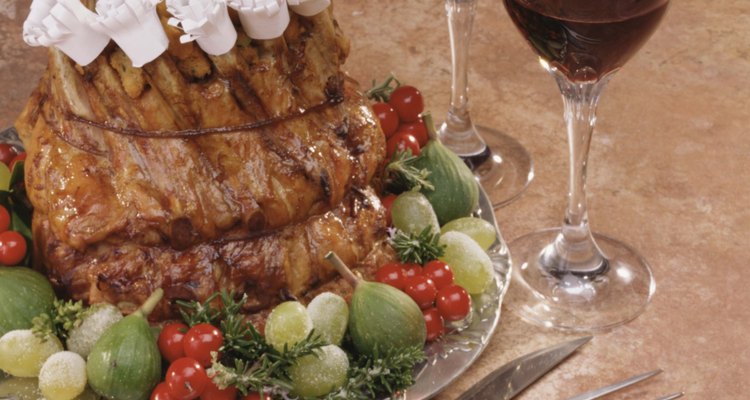 Jupiterimages/Comstock/Getty Images
Prime rib, also known as standing rib roast, is a choice cut of beef. As its name suggests, it comes from the rib section and includes between two and seven ribs, depending on the size of the cut. Because it is one of the best cuts of beef, prime rib is usually a dinner for special occasions, which calls for a special menu.
Appetizer
For a formal or elegant prime rib dinner, look to appetizers such as goat cheese spread, spinach bites, toast points with roasted mushrooms or tomatoes and cheese. Less formal appetizers perfect for a prime rib dinner include a gazpacho, bruschetta or a ranch artichoke and spinach dip. A prime rib dinner is filling, so look for appetizers that are not too heavy or filling, such as tomato crostini or chilled avocado soup.
Salad
While a garden salad with dressing always goes well with a prime rib dinner, other salads can help make the dinner special. A salad with spinach, cranberry and creamy blue cheese dressing complements beef well and is not overly filling. Other salads to serve with prime rib are Caesar, Greek, arugula, cucumber and tomato salads. As with appetizers, salads that are light and refreshing are perfect with prime rib.
Starches
Yorkshire pudding is traditionally paired with prime rib. It can be made using simple ingredients, including the drippings from the prime rib, as well as flour, eggs and milk. Give Yorkshire pudding a slightly different flavor by adding in some thyme. Potatoes are also a standard dish with prime rib. Mashed and baked are always good, but there are plenty of other options. Potatoes au gratin, scalloped potatoes, mashed sweet potatoes, stuffed baked potatoes and garlic mashed potatoes all pair well with prime rib. Roasted potatoes or baked potato wedges drizzled with olive oil and topped with basil or thyme are good options for a less formal dinner.
Vegetables
Vegetables served with prime rib can range from simple, such as steamed asparagus or carrots, to more complicated dishes like baked blue cheese and broccoli, roasted carrots with shallots, or green beans topped with almonds. While casserole-style vegetables are delicious, they can be filling. Fresh vegetables that are steamed or served with butter or olive oil, rather than baked with other ingredients, are not as filling and retain more nutrients.
Dessert
Dessert with a prime rib dinner can be simple or elegant. After such a heavy dinner, choose a dessert that is not too rich. Fruit or cream tarts are a solid choice, as well custard or a pudding served with shaved chocolate and fruit. Candied pears, fruit sorbet, creme brulee and cheesecake are other delicious desserts that round out a prime rib dinner.