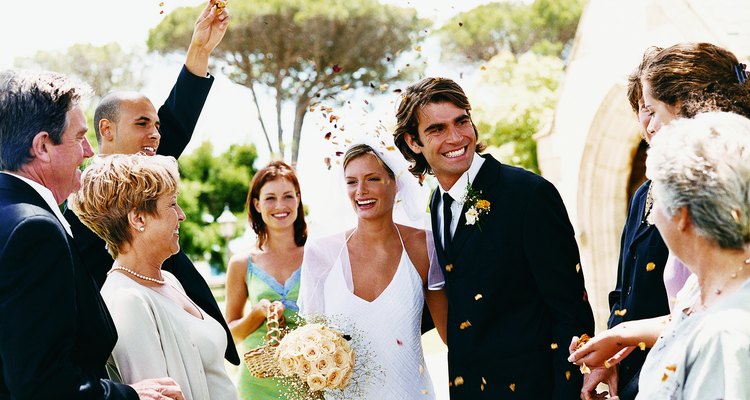 Digital Vision./Digital Vision/Getty Images
Though weddings involve love and happiness, deciding what to wear can prove stressful for even the most fashionable guests. While you might need to do a little research to choose the attire for the next wedding you're invited to, a fabulous outfit to celebrate the occasion is worth the trouble. For a late afternoon wedding, base your choice on the formality of the event and dress in clothing that's classy and stylish -- whether it's a gorgeous church ceremony or one in an ethereal outdoor setting.
Fabulous Formal Attire
For formal affairs in late afternoon, a long, floor-length gown or elegant cocktail dress are acceptable options. Stick to bright shades and pastels for spring and summer weddings; rich jewel tones and neutrals such as black and beige are lovely choices for fall and winter affairs. Add a shawl or embellished bolero if the weather turns chilly. Formal affairs call for an extra dose of glitz, so highlight your dress with embellished accessories or those in sleek metallics to glamorize your ensemble.
Classy and Chic in Casual Attire
Casual weddings allow more leeway when it comes to attire, but sticking to a dress is still your safest bet. If it's a beach or garden wedding, a short, flowing chiffon number will mesh perfectly with the environment. For casual late afternoon affairs, sheath dresses, printed A-line frocks and bright, colorful dresses keep you looking chic and elegant while you celebrate the nuptials of loved ones. If dresses simply aren't your style, a sophisticated pair of trousers is acceptable when paired with an elegant blouse and dressy accessories.
Suave Men's Attire
You can wear either a sophisticated suit or pants, sports jacket and dress shirt combination to a semiformal late afternoon wedding, and a light-colored or seersucker suit is a stylish choice for spring and summer. For year-round appropriateness, you can't go wrong with a suit in navy or beige. For casual late afternoon weddings, pair khaki or other neutral-hued slacks with a crisp white button-down or dressy polo shirt. Formal affairs call for a dark suit. Use a colorful tie to add personality to these serious garments.
Touches of Glamor
Consider the venue when choosing footwear. You'll definitely want to avoid those 5-inch stilettos if you're attending a beach or garden wedding. When in doubt, a pair of high heels in beige or black should suffice for most ensembles. A fancy hat looks right at home for garden weddings; for casual weddings, stay away from jewelry and other accessories that can read too dressy for the occasion. An embellished clutch will add the perfect dose of glamor without overpowering or distracting from your casual dress. For formal affairs, bring on the glitz with diamond or rhinestone jewelry.
References
Resources
Writer Bio
Sara Cantu has been writing fashion and lifestyle articles since 2009. As a fashion stylist, writer and blogger, she has been published in "Lady Couture" magazine and "RGV" magazine. She holds a Bachelor of Arts in journalism from The University of Texas - Pan American.
Photo Credits
Digital Vision./Digital Vision/Getty Images