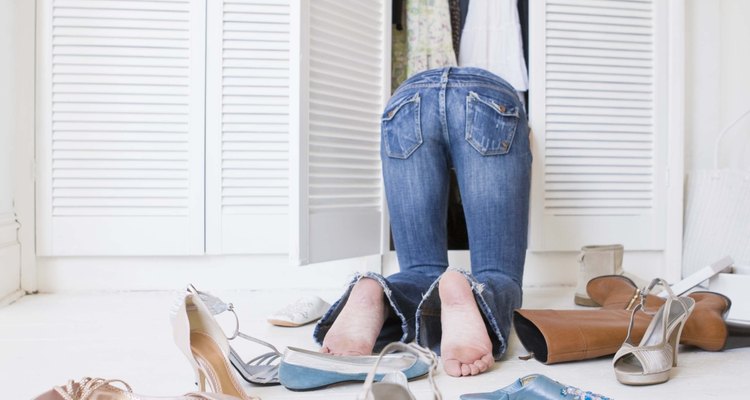 Jupiterimages/Polka Dot/Getty Images
Weddings that stray from the normal "afternoon church wedding followed by a dinner reception" are a fun and fresh break from the expected, but can oftentimes cause confusion for guests as to how formal their attire should be. An invitation describing a daytime, backyard wedding hints at informality, but guests should still want to look respectable. Following are some general guidelines to help make choosing attire for a backyard daytime wedding a cinch.
Lighten Up On Colors and Fabrics
Ladies, leave the formal little black dress at home. Backyard daytime weddings are a great place to flaunt fresh floral print dresses and bright colors. Dresses in yellow, purple, green, or pink hues are perfect. Use caution with solid red, as it may appear too formal for this setting. Lighten up fabric choices, too. Something breathable and comfortable is appropriate, while heavy or formal materials, such as velvet or satin, are best avoided. As always, stay away from solid white and mostly white attire. You don't want to compete with the bride.
Leave the Jeans at Home
Unless specifically instructed to do so, do not wear jeans to a wedding. Jeans are usually too informal, even for backyard weddings. Opt for khakis or dress pants, just to be safe. If jeans do happen to be requested as attire, choose a darker wash with no distressing to avoid looking too casual.
Go Easy On the Makeup
A daytime outdoor wedding is no place for heavy makeup. Aside from looking too formal, the sun may do quite a bit of damage to a facial masterpiece before the bride even says "I do." Opt for lighter formulas, such as tinted moisturizer, instead of full coverage foundation, and go easy on the eyeliner to avoid mid-day raccoon eyes. Flaunt a fresh face and have powder on hand for touch ups, especially in warm weather.
Lighten Up On the Jewelry
Backyard weddings are not the place to flaunt sequins, rhinestones and statement jewelry. Keep accessories simple and subtle. Sporting earrings, a necklace, bracelets and rings can be overwhelming for daytime weddings. Choose two or three jewelry pieces that don't demand too much attention and leave the rest at home.
Be Smart About Footwear
Lawns and stilettos don't mix. Instead of wearing high heels, opt for a dressy sandal. Heels sink into grass and dirt, and not only will it be uncomfortable and difficult to walk, but a great pair of shoes might be ruined in the process. Flat dressy sandals are an acceptable form of footwear at outdoor casual weddings.
References
Writer Bio
Mandy Kessler's creative writing work has been published in "Warren," a student literary journal. Kessler holds a Bachelor of Arts in English from Bloomsburg University of Pennsylvania. She also has retail management experience in both beauty and fashion and contributes many beauty articles to the online community.
Photo Credits
Jupiterimages/Polka Dot/Getty Images