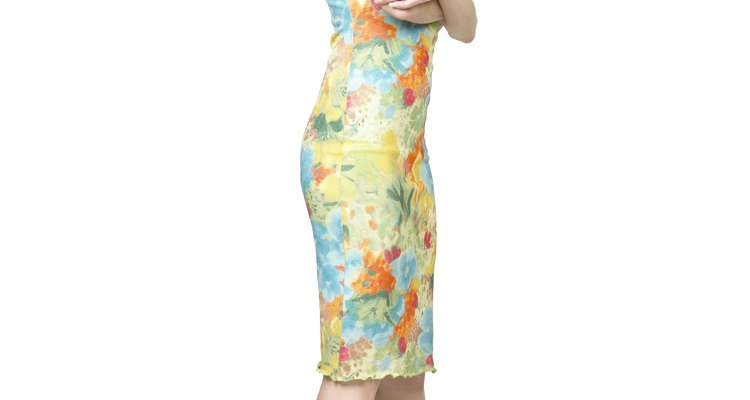 PhotoObjects.net/PhotoObjects.net/Getty Images
While it is exciting to receive an invitation to an outdoor march wedding, the angst of dressing for it often overwhelms and flusters even the most well-dressed wedding guest. Whether the ceremony space is a backyard, hotel or beach, you will want to select a dress that is celebratory, cheerful and chic. To be the best-dressed woman in the room, wear a festive frock that complements the time of day, the formality of the ceremony and the weather.
Outdoor Day Wedding Basics
Day weddings lend themselves to more casual attire than afternoon and evening weddings. Although the ceremony and celebration take place outdoors, to be appropriately dressed for this dressy-casual occasion, your dress and accessories should err on the side of simple sophistication. In fact, a nice, daytime skirt suit or a knee-length cocktail dress in a dressy fabric is the perfect wardrobe option for a spring wedding. For attention-grabbing accessories, pair your wedding attire with a pair of crystal-accented sandals, a thick statement necklace and metallic button earrings.
Fabric and Dress Ideas
A daytime wedding calls for lightweight fabrics with a hint of formality such as silk charmeuse, lace, crepe or chiffon. Avoid festive evening fabrics such as sequins or heavily beaded dresses. Choose dresses in light colors and cheerful pastels like shades of yellow, pink and nude. A linen sundress is the perfect piece for a spring day wedding in a backyard garden. If your arms feel bare in a spaghetti-strapped dress, wear a cropped rayon and silk cardigan sweater to a morning ceremony. Skip the ultra-short mini dress and wear a halter style knee-length dress to an outdoor wedding celebration.
Location
Along with the invitation, the location of the wedding dictates the appropriate type of dress. For an outdoor country club wedding in a chilly climate, wear a conservative sheath dress with an eye-catching, long-sleeved tweed jacket. Informal, backyard garden wedding attire calls for a knee-length dress or a long, maxi-style sundress. If you are attending an outdoor beach wedding, dress up a strapless or a spaghetti-strapped dress with a lace bolero jacket or a silk cardigan sweater. East Coast weddings tend to require dressier attire than West Coast or tropical destination wedding celebrations. If you are uncertain of the proper outdoor wedding attire, choose a dressy cocktail dress instead of a more casual one.
Season & Weather Considerations
Depending on the location of the wedding, the weather in March may fluctuate from cool and crisp to warm and hot. Check the local weather report the morning of the wedding to make sure that you will be comfortable and appropriately dressed for an outdoor ceremony. If you are attending a spring day wedding in a warm climate, you can wear a sleeveless dress in a lightweight fabric. For cooler climates, three-quarter length dresses or dresses with matching jackets in heavier fabrics will keep you warm.
What Not To Wear
For an outdoor day wedding, avoid casual fabrics such as jersey, cotton, denim or polyester. If the day wedding occurs on the grass or sand, skip the stiletto heels. A strappy and sturdy, wedge-heeled shoe or an embellished sandal will help you stand tall on soft ground. Avoid white, ecru and cream-colored dresses and long gowns with appliques, beading or full skirts. Dark-colored dresses are more appropriate for evening weddings.
References
Emily Post's Wedding Etiquette; Peggy Post; 2006
The Wedding Book; Mindy Weiss; 2007
Writer Bio
Mimi Abney is a lifestyle writer specializing in online content for women. Her work has appeared in NewsOK.com and "Keepsake Magazine," among other publications. With over 15 years of writing and editing experience for the web and print, Abney is also a contributor to online health, beauty and fashion publications. She holds a Bachelor of Science in biology from Spelman College.
Photo Credits
PhotoObjects.net/PhotoObjects.net/Getty Images