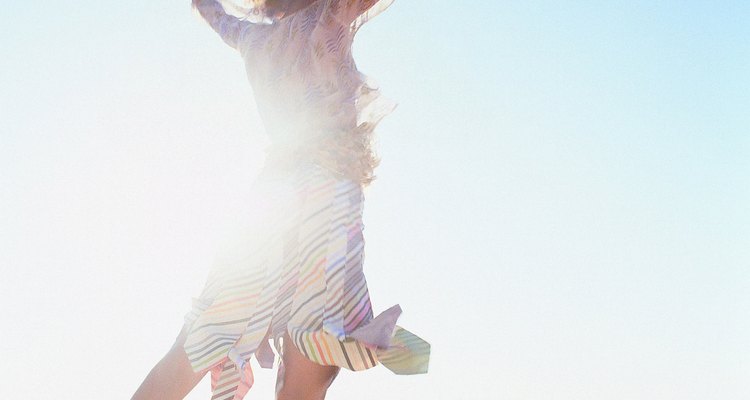 Digital Vision./Digital Vision/Getty Images
Whether it's a relaxed clambake with friends or the party after a beach wedding, a beach party is an iconic summertime event. Dressing for the occasion means tailoring your clothing choices to the event and the activities. There is no need for a swim suit if the event is a meal and some dancing. Choose clothes that are lightweight, comfortable and colorful to keep in line with the easygoing mood.
Dress for the Occasion
For men, a linen suit or a pair of clean khaki shorts and a polo shirt work for a formal or smart casual event, respectively; for women, beach dresses or clean, pressed shorts and a flowing tunic work well for formal and casual gatherings. For an impromptu party, a clean pair of shorts and a loose fitting top -- tank, T-shirt or dress shirt -- work for either men or women. Keep the fabrics lightweight as the temperature will be warm and bring along a shawl, sweatshirt or jacket in case the party lasts until evening.
Personal Style
It's sunny and warm out, so save the heavy, dark colors for another occasion. Light colors, such as beige, white, pale pink or baby blue, and bright colors and patterns work well for a beach event. Choose clothes that make you feel comfortable and relaxed -- not everyone needs to wear a skimpy bikini and sheer blouse. For more coverage, a flowing tunic with beads and a tankini or one-piece bathing suit lends class to a beach party outfit.
Accessories Are Key
Accessories for a beach party don't just accentuate your outfit, they make your experience more comfortable. Don't forget a hat and sunglasses for daytime parties to manage the heat and glare of the sun. Bring a large cloth or straw tote bag to hold necessities such as a jacket or sweater, car keys, wallet, sunglasses and sunscreen.
The Right Shoes
Choosing the right footwear is important for a beach party. While you can wear shoes at the beach, they are uncomfortable when sand is trapped inside them. Opt for sandals instead -- leather sandals for elegance or flip flops for casual comfort. Ladies, leave the towering heels at home and choose flat-soled shoes or sandals. If you crave a bit of height, look for low-wedge shoes or sandals.
References
Writer Bio
Bethany Williams has been a beauty and style writer since 2006. She has written for "ELLE Canada," "Canadian Living" and "Flare Magazine." She holds a Bachelor of Arts degree in journalism and history from the University of King's College.
Photo Credits
Digital Vision./Digital Vision/Getty Images