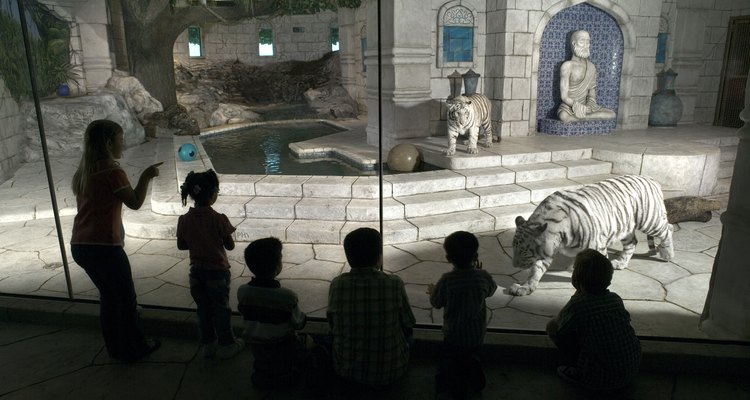 Thinkstock/Stockbyte/Getty Images
A day at the zoo is much more fun when you are comfortable. The right clothes and shoes are an important part of a zoo visit, since you will be walking around outdoors for most of the day. Focus on comfort and leave those heels at home, and your feet will be sure to thank you.
Warm Weather
The zoo gets hot on summer days, so dress accordingly. Wear a light-colored short-sleeved T-shirt or blouse to reflect sunlight and keep cool. Dress your bottom half in light-colored loose shorts or capris. A breezy skirt or comfortable sundress will work with sandals, flats or flip flops that are comfortable for walking. Protect yourself from the sun with sunglasses and a wide-brimmed hat. Complete the look with a messenger bag to tuck away a water bottle, sunscreen and money for snacks.
Cold Weather
When dressing for cool weather, stick with the loose, comfortable theme of summer but substitute a sweater for the T-shirt and choose long pants or jeans. A stylish jacket provides another layer of warmth that you can remove when enjoying the indoor exhibits. Comfortable shoes are still a must, but wear sneakers or boots rather than sandals. Skip the sun hat and pack a warmer version, such as a knit cap. If the sun is out, don't forget the sunscreen, because the sun's rays are no less damaging in the winter.
References
Writer Bio
Writing professionally since 2008, Michelle Miley specializes in home and garden topics but frequently pens career, style and marketing pieces. Her essays have been used on college entrance exams and she has more than 4,000 publishing credits. She holds an Associate of Applied Science in accounting, having graduated summa cum laude.
Photo Credits
Thinkstock/Stockbyte/Getty Images