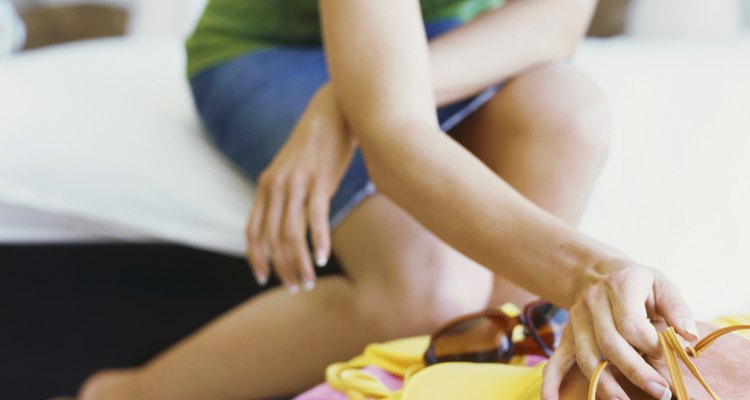 Stockbyte/Stockbyte/Getty Images
Packing a fancy cocktail dress in a suitcase can seem like a hassle. Wrinkles, tears and dirty smudges may be the last things you want to repair during a trip. Fortunately, keeping your dress clean and crease-free is a simple, relatively easy process. Don't pack last-minute; take some time to prepare beforehand to ensure you'll have a crisp frock even after a long plane, train or car ride.
Hang the Dress
Stuff tissue paper between the layers of the dress, such as the sleeves, torso and skirt areas. The tissue prevents the delicate fabric from folding on itself and helps keep the shape of the dress intact.
Put the dress on a hanger. Encase each dress outfit in its own plastic dry-cleaning bag. The plastic reduces the friction, which causes wrinkles, and allows the dress to settle into its natural shape.
Pack the whole outfit inside a travel garment bag for extra protection from wrinkles. Neatly lay it inside your suitcase.
Folding and Layering
Lay a dainty dress flat and smooth out the wrinkles.
Place garments with cushion, such as knit tops and sweaters, on top of the dress. Fold the top half of the dress over the sweater. Pack the outfit into your suitcase.
Layer garments over one another, so each piece acts as extra padding. For example, put a slip on a hanger. Hang a cocktail dress on top of the slip. A light cardigan, shrug or shawl can go over the dress.
Place the whole outfit in a plastic dry-cleaning bag and then a garment bag before putting it inside a suitcase.
References
Writer Bio
Dominique Fong has served as a community reporter for "The Oregonian," a daily newspaper based in Portland, Ore., and contributed to "Angeleno Magazine" and the "Los Angeles Business Journal." Fong holds bachelor's degrees in print journalism and political science.
Photo Credits
Stockbyte/Stockbyte/Getty Images