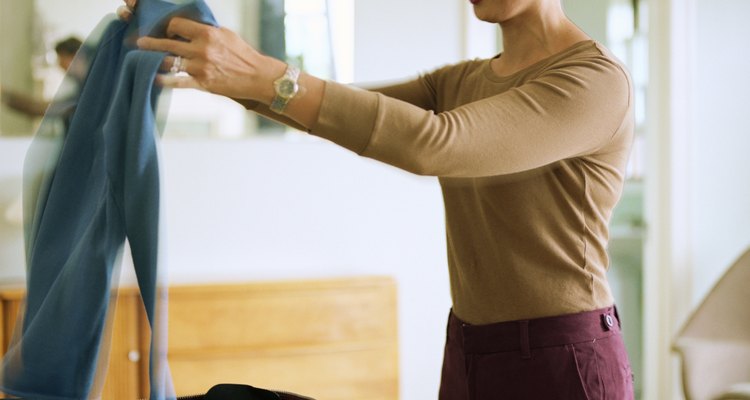 Ryan McVay/Digital Vision/Getty Images
If your trip includes a fancy dinner, wedding or other formal event, it's a given that you'll need to pack a dress or two in your bag. A silk dress is a soft and luxurious choice, but this delicate fabric tends to wrinkle rather easily. To avoid this, it's best to sandwich your dress between other garments in the suitcase. Multiple layers of clothing will shield the silk dress from wrinkles and keep it crease-free all the way to your destination.
Step 1
Open a suitcase and lay it on a flat surface such as a bed or the floor.
Step 2
Roll up cotton or knitwear items such as T-shirts, pajamas, underwear, socks and ties. These items won't wrinkle much, so it's safe to roll them up. Line the bottom of the suitcase with the rolled-up items to form a protective layer for your delicate garments.
Step 3
Put irregularly shaped items on the bottom of the suitcase if any space remains.
Step 4
Lay the silk dress flat over the open suitcase. Position the dress so the collar is at the top of the suitcase.
Step 5
Fold the sleeves across the center of the dress. Leave the bottom hanging over the side of the suitcase.
Step 6
Place another delicate garment, such as a skirt or dress shirt, over the silk dress. Repeat this with as many garments as you need. As you stack clothes, alternate the position of waistbands and collars. For example, if you lined a shirt's collar up with the top of the suitcase, lay the next garment so that the collar or waistband is at the bottom of the bag. When you're done, you'll have garments hanging out of both ends of the suitcase.
Step 7
Alternate folding the ends of the garments into the suitcase. The folded part of each garment protects the garment below it.
Step 8
Lay a flattened dry-cleaning bag over the top layer of clothes. This will shield the garments from creases.
Step 9
Place items or garments you need to use first on top of the dry-cleaning bag, then close the suitcase.
References
Resources
Tips
You usually only need to pack one skirt or dress in your suitcase.
To keep clothes smelling fresh, put a few scented fabric-softener sheets in the suitcase.
Writer Bio
Melissa King began writing in 2001. She spent three years writing for her local newspaper, "The Colt," writing editorials, news stories, product reviews and entertainment pieces. She is also the owner and operator of Howbert Freelance Writing. King holds an Associate of Arts in communications from Tarrant County College.
Photo Credits
Ryan McVay/Digital Vision/Getty Images