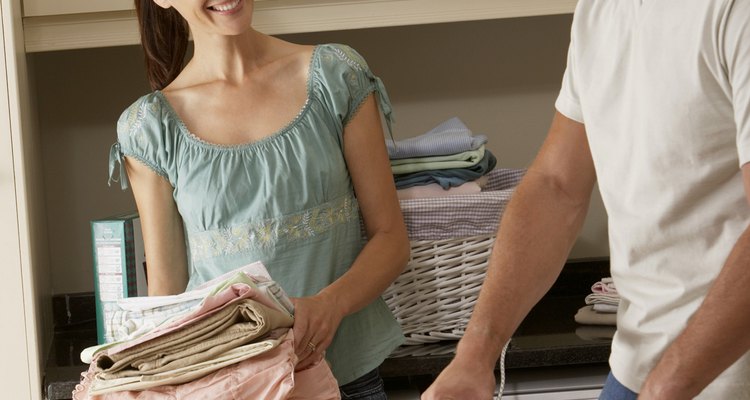 Andrew Olney/Photodisc/Getty Images
Linen is a soft, durable and easily-wrinkled fabric created from flax fibers. When the temperatures rise, people of all ages and sizes don fashionable, breathable and cool linen clothing. When your linen wardrobe items need ironing, you can press the smooth vegetable-based fibers at home easily. Whether you are prepping for a summer wedding or a casual business meeting, you can look your best in a well-pressed and presentable linen garment.
Step 1
Fill the iron with water. Place the iron on the hottest setting to iron linen fabrics.
Step 2
Turn the item inside out. It is best to iron your clothing on the reverse side to prevent shine and avoid fading of dark-colored fabrics.
Step 3
Place the linen garment on a well-padded ironing board. Spritz the surface of your clothes with water from a spray bottle. If your linen item is damp, the iron presses the fibers quickly and removes stubborn wrinkles faster. Also, ironing your damp linen clothing prevent the iron from burning or yellowing the fabric.
Step 4
Iron the thickest part of the garment. For example, if you are ironing a shirt, press the collars, pockets and sleeves first.
Step 5
Move the iron firmly and steadily across the remaining parts of the garment. Follow the lines and the stitching of the garment to press the clothing smoothly and in a straight line. Iron around any buttons -- do not press the iron over them or they could break. Release a blast of steam from the iron to set any creases in your shirtsleeves or in the legs of your linen pants.
Step 6
Let the clothing rest and cool on the ironing board for five minutes to set the press -- freshly-ironed fabrics wrinkle quickly. Hang your linen garments on a padded hanger to keep them smooth and wrinkle-free.
References
Writer Bio
Mimi Abney is a lifestyle writer specializing in online content for women. Her work has appeared in NewsOK.com and "Keepsake Magazine," among other publications. With over 15 years of writing and editing experience for the web and print, Abney is also a contributor to online health, beauty and fashion publications. She holds a Bachelor of Science in biology from Spelman College.
Photo Credits
Andrew Olney/Photodisc/Getty Images