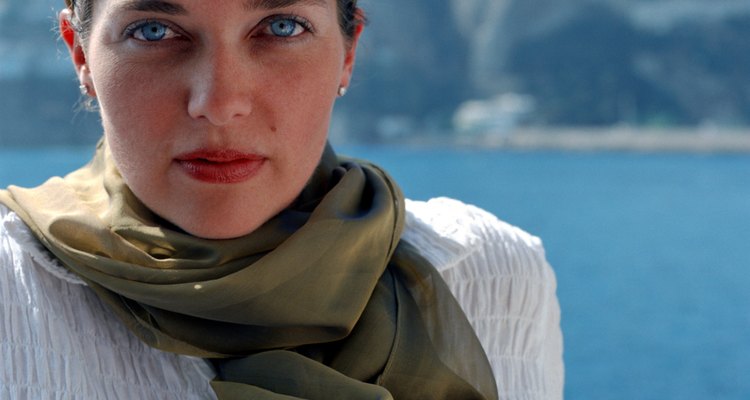 Creatas Images/Creatas/Getty Images
Silk scarves add a dash of elegance to casual outfits as well as formal ensembles. Unlike cotton or synthetic fabrics, delicate silk requires a bit of special care to keep it looking its best. If you've folded your scarf for storage or packed it in a bag for travel, it may have developed some wrinkles or few creases. These creases aren't permanent, and you can get rid of them by ironing the scarf.
Step 1
Fill a spray bottle with lukewarm water. Mist the scarf until it's damp.
Step 2
Lay the scarf flat on an ironing board with the reverse side facing up.
Step 3
Cover the scarf with a thin fabric, such as another scarf or a handkerchief. This prevents the iron from damaging the silk.
Step 4
Turn on your iron and select the silk setting. If your iron doesn't have a silk setting, adjust the temperature to the medium-high setting.
Step 5
Press the hot iron against the scarf, using the cloth you draped over it as a buffer. Run the iron from the bottom of the scarf to the top several times. Avoid ironing the curled edges of the scarf.
Step 6
Lift the cloth and check the scarf for creases. If any remain, put the cloth back and iron over the scarf again.
Step 7
Lay the scarf flat on a towel to dry if it's still damp. Don't put the scarf in the clothes dryer.
References
Resources
Tips
If you spill something on your silk scarf, blot the stain with a towel, but do not rub. Rubbing will spread the stain and make it worse. It can also cause the silk to chafe or wear down.
If your scarf gets dirty, it's best to take it to a dry cleaner. Washing it yourself might cause irreparable damage.
Warnings
Stream from an iron can get rid of wrinkles, but steam irons sometimes drip water droplets. If a droplet gets on your scarf, it may leave a permanent mark.
Writer Bio
Melissa King began writing in 2001. She spent three years writing for her local newspaper, "The Colt," writing editorials, news stories, product reviews and entertainment pieces. She is also the owner and operator of Howbert Freelance Writing. King holds an Associate of Arts in communications from Tarrant County College.
Photo Credits
Creatas Images/Creatas/Getty Images