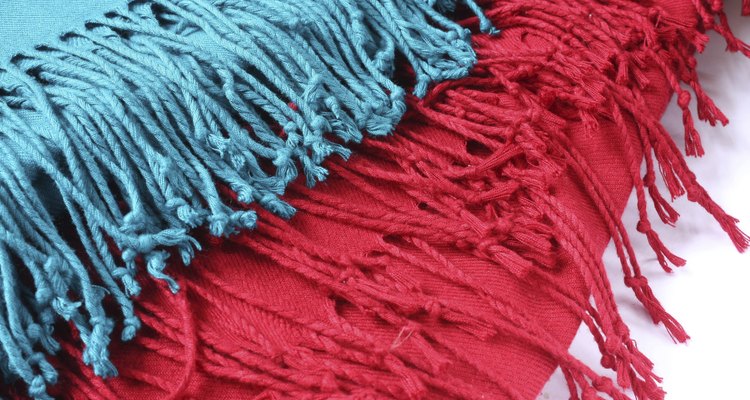 AnaitBoyajyan/iStock/Getty Images
Your pashmina scarf will last for years with the proper care. Pashmina fabric is woven from the wool of goats indigenous to the Himalayan mountains and mixed with silk in either a 70/30 or 50/50 blend. Because they are made from natural fabrics, pashmina scarves do not have to be dry-cleaned and can be carefully hand washed.
Fill the sink with lukewarm water. Add a small capful of baby shampoo, swirling the water around so the shampoo dissolves.
Place the pashmina scarf in the water and let it soak for several minutes. Do not rub or twist the scarf, as this may pull it out of shape.
Drain the sink and refill it with lukewarm water. Add a capful of hair conditioner and swirl the scarf around in it several times.
Rinse the scarf thoroughly in lukewarm water.
Lay the pashmina scarf flat to dry. Do not place the scarf in direct sunlight or near heat sources.
If desired, press the pashmina with a cool iron.
References
Writer Bio
Angela Powell Watson has written for dozens of print and online resources, and recently published her first book. Watson holds a Bachelor's degree in Early Childhood Education and Art from Hood College, a Master's degree in Curriculum and Instruction from Western Maryland College and National Board Certification as an Early Childhood Generalist.
Photo Credits
AnaitBoyajyan/iStock/Getty Images