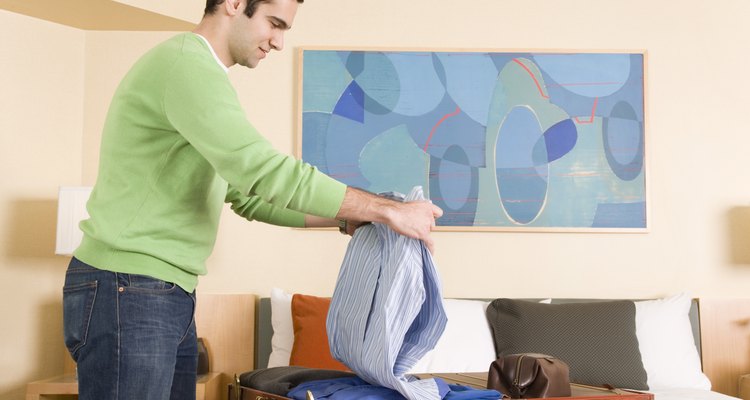 Jupiterimages/Comstock/Getty Images
If you're packing a dress shirt for a formal event, you want the garment to look its best when you reach your destination. If your shirt gets wrinkled and creased in the suitcase, you may not be able to remove the creases before going to your event. To avoid an embarrassing fashion blunder, pack your suit in a way that prevents it from creasing in the suitcase. Do this by folding the dress shirt around another garment, such as a T-shirt.
Step 1
Button the bottom, middle and top buttons of your dress shirt. Lay the shirt face-down on a table or bed.
Step 2
Hold the shirt down by placing your finger about 1 inch from the collar.
Step 3
Fold one arm back over the shirt so the edge of the sleeve lines up with the edge of the shirt. Fold the second arm back and over the first in the same way.
Step 4
Lay a tie, unfolded, down the length of your shirt. Position the tie in the center of the shirt where the folded sleeves meet. The end of the tie will hang past the bottom of the shirt.
Step 5
Fold a T-shirt in half and lay it in the middle of the dress shirt just above the sleeve cuffs. The T-shirt helps prevent a crease from forming after you fold the shirt.
Step 6
Fold the top half of the dress shirt down over the folded T-shirt.
Step 7
Lift the end of the hanging tie up and wrap it around the center of the dress shirt.
References
Resources
Tips
Pack your folded dress shirts on top of all your other clothing to prevent wrinkles and creasing.
Writer Bio
Melissa King began writing in 2001. She spent three years writing for her local newspaper, "The Colt," writing editorials, news stories, product reviews and entertainment pieces. She is also the owner and operator of Howbert Freelance Writing. King holds an Associate of Arts in communications from Tarrant County College.
Photo Credits
Jupiterimages/Comstock/Getty Images