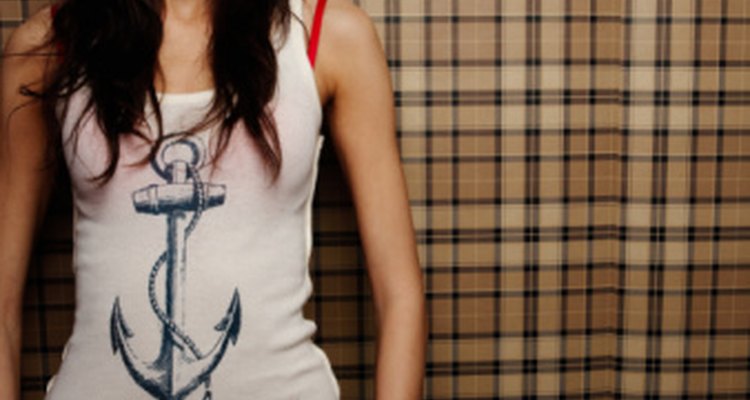 Jupiterimages/Photos.com/Getty Images
Don't know what to do with that oversize T-shirt sitting in the back of your closet? Before you decide to rip it into rags to polish the furniture, give it one more look. That shirt can be transformed into a stylish new tank top.
Iron the T-shirt and tank top.
Place tank top over the T-shirt and align the hems. Pin the tank top into place.
Trace the tank top pattern onto the T-shirt using the fabric pen.
Measuring a 1/2-inch seam allowance, cut around the traced pattern.
Pin the fabric with the right sides together and sew the shoulder seams using a zigzag stitch. Press the seams with the iron.
Fold the arm hole seams in about 1/2 inch and iron the crease. Sew the hem using a straight stitch.
Using a zigzag stitch, sew the side seams, leaving a 1/2-inch seam allowance. Press the seams with the iron.
References
Writer Bio
Chinello Plummer has been writing and editing since 2007, specializing in topics related to insurance, personal finance and the beauty industry. Her work has appeared in "The Claimant," "News Wiz" and various online publications. Plummer graduated in 2005 from the University of Memphis, earning a Bachelor of Arts in communications.
Photo Credits
Jupiterimages/Photos.com/Getty Images