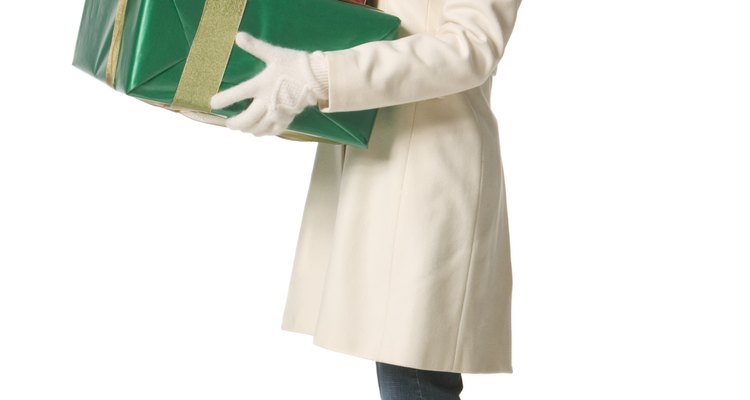 Photodisc/Photodisc/Getty Images
Dress coat sleeves should be long enough to cover the shirt, blouse or suit jacket completely, reaching past the top of the gloves. If you're tall or have long arms, many coats may be too short through the sleeves for your body. Lengthening dress coat sleeves is relatively simple and will give you a well-fitting coat to keep you warm all winter.
Step 1
Rip the stitches connecting the sleeve fabric and coat lining at the cuff using a seam ripper. Work carefully to avoid damaging either the outer fabric or lining.
Step 2
Press the outer sleeve and lining fabric flat. Use the correct setting on your iron for the fabric.
Step 3
Mark the correct sleeve length with sewing pins. Fold the sleeve fabric up and press the new hem into place.
Step 4
Turn the edges of the outer sleeve and lining under and press to neatly match the two if you have enough length in the sleeve and lining. Make small, diagonal stitches to whipstitch the sleeve and lining together.
Step 5
If the lining is too short to match up to the new sleeve length, measure the sleeve and cut a strip of fabric to fit. Seam the short ends of the fabric strip together to form a circle. Sew the right side of the new facing strip to the right side of the outer sleeve. Turn under and press. Trim the facing to fit, allowing a 1/4-inch hem allowance. Press the 1/4-inch hem into place and stitch the folded edge of the facing to the coat sleeve lining.
References
Ready, Set, Sew; Butterick
Tips
If needed, cover any fade or wear marks from the original sleeve hem with ribbon, trim or a strip of contrasting fabric.
Warnings
While this method works for a lined coat, it will not work for one with functional cuffs. If you need to alter the sleeve length on a coat with plackets and cuffs, see a skilled tailor.
Writer Bio
With a master's degree in art history from the University of Missouri-Columbia, Michelle Powell-Smith has been writing professionally for more than a decade. An avid knitter and mother of four, she has written extensively on a wide variety of subjects, including education, test preparation, parenting, crafts and fashion.
Photo Credits
Photodisc/Photodisc/Getty Images