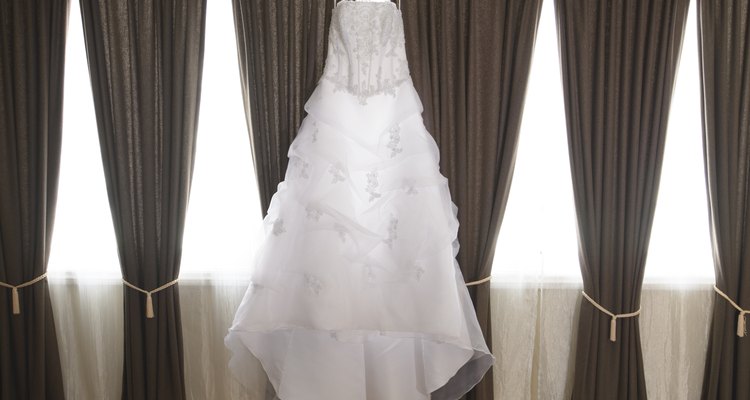 JoelBoily/iStock/Getty Images
"Here comes the bride, all dressed in white" -- that's how the old rhyme goes. It definitely isn't the bride all dressed in yellow. Light fabrics turn yellow due to long exposure to acidic packing materials and from any debris that was not properly cleaned before storing. When facing the dilemma of restoring a yellowed wedding dress, it's important to consider a few things.
Determine the Best Method to Save the Yellowed Dress
Check the tag of the wedding dress for cleaning instructions and to determine the material. It is advisable to follow these instructions when cleaning your dress. If the care label is missing, consider the fabric content.
Wedding dresses made from polyester, acetate, chiffon, voile, tulle, organza and cotton: It may possible that stains and discoloration can be removed at home, if they aren't extensive. If the yellowing is overwhelming, a professional dress cleaner is recommended. If there are embellishments, beads or pearls on the dress, it will need to be hand washed or cleaned by a professional so nothing comes off.
Wedding dresses made from silk, satin, taffeta, shantung and rayon: A professional dress cleaner is recommended by the Association of Wedding Dress Specialists for dresses made of these materials.
Cleaning Dresses at Home
If the label indicates you can clean the dress by hand or machine, begin the cleaning process by applying a mixture of a gentle liquid laundry soap with lukewarm water with a soft cloth or a toothbrush. Alternatively, apply a mixture of baking soda and vinegar on the discolored areas. Or, use a fabric stain remover applied with a damp cloth to yellowed areas.
After spot treating yellowing areas, if the care instructions call for hand washing, use a bathtub to clean. Fill the tub with lukewarm water, and add a gentle liquid laundry detergent. Do not use bleach. Turn the dress inside out before placing in the tub. Gently swish the dress around; do not scrub. Drain tub and refill again with lukewarm water, swishing dress around to remove all soap residue. Repeat rinsing as needed, until water runs clear.
If the dress care instructions indicate you can use a washing machine, use the gentle cycle only.
Dry the dress on a line outside after cleaning. Do not use the dryer.
Choosing a Professional Cleaner
Research the cleaner before giving her the wedding dress. According to Heritage Garment Preservation, ensure the cleaner does the cleaning herself and doesn't send the dress to a wholesale cleaner, and that the cleaner uses virgin solvent. Virgin solvent means that the solvent is fresh and not reused solvent.
Preserving a Dress in the Future
Ensure the dress is adequately protected from yellowing in the future. After having a dress properly cleaned, have it placed in a preservation box to protect it from future contamination. These boxes are lined with acid-free paper, are sealed tightly and often have a viewing window on the lid. Preservation boxes are available from most dress companies, many dry cleaners and online retailers. Both DIY dress preservation kits and preservation packages from companies that will clean and place the dress in the preservation box are available.
References
Writer Bio
Nicole Hering is a writer, licensed esthetician, certified fashion stylist, makeup artist and a certified wedding planner. Her stories and books have been published on Amazon Kindle. She writes on makeup, hair, fashion, books, movies and pregnancy.
Photo Credits
JoelBoily/iStock/Getty Images