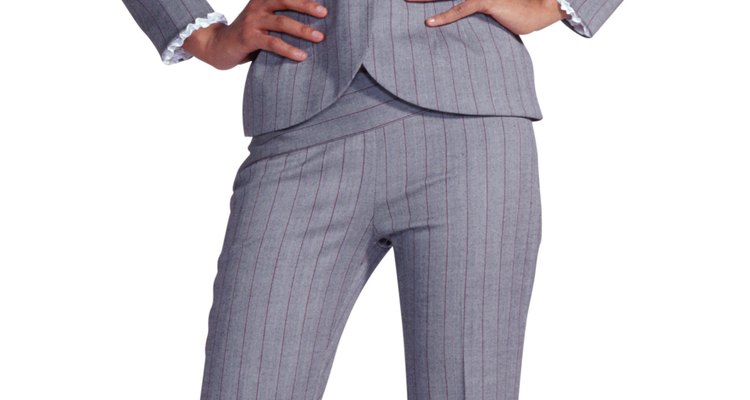 Ryan McVay/Photodisc/Getty Images
There's nothing worse than discovering that the pants that go with your brand new dress suit have shrunken to munchkin-size after throwing them in with the rest of your laundry. If they went through the dryer and a hot wash cycle, your dress pants are done for. Some choose to only dry-clean their pants to avoid this situation, but if you want to save money, you just need to remember a few crucial tips when washing at home to prevent your pants from shrinking in the future.
Turn the dress pants inside out.
Fill a washing machine with cold water and a capful of mild detergent for delicate fabrics. Turn the machine setting to delicate if possible. Dress pants best suitable for a washing machine include 100 percent cotton and corduroy.
Remove from the washer when the cycle is finished. Cotton and linen dress pants should always be hung to dry, while wool and cashmere pants should be laid flat to dry. You can use either drying method for silk, polyester, rayon and acetate fabrics.
References
Writer Bio
Based in Los Angeles, Zora Hughes has been writing travel, parenting, cooking and relationship articles since 2010. Her work includes writing city profiles for Groupon. She also writes screenplays and won the S. Randolph Playwriting Award in 2004. She holds a Bachelor of Arts in television writing/producing and a Master of Arts Management in entertainment media management, both from Columbia College.
Photo Credits
Ryan McVay/Photodisc/Getty Images