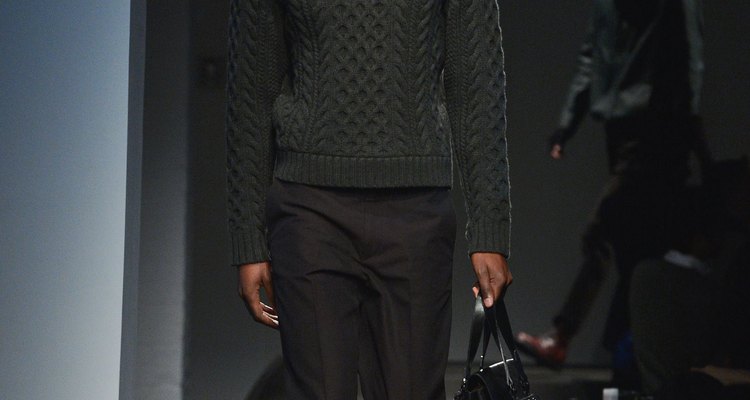 Slaven Vlasic/Getty Images Entertainment/Getty Images
Wool is notably long-lasting, flame-resistant and fairly breathable, but other qualities of this time-tested fabric aren't so cut-and-dry -- particularly your laundering options. While dry cleaning is the safest and most prominent solution for washing your 100-percent wool pants, you do have viable alternatives in the form of cold washing and hand cleaning. Because wool fabrics and garments vary, always check your pants' tag and follow any warnings or care instructions provided by the manufacturer or clothier.
Brush the entire surface of your wool pants with a soft-bristled suit brush after each wear to remove loose dirt and surface debris. After brushing, hang the pants in a steamy bathroom as you shower, then air them out overnight in a cool, dry room with plenty of air flow before storing them. If your pants aren't soiled, this helps refresh them after normal wear.
Steam your wool pants to eliminate day-to-day odors. As a rule of thumb, break out the steamer every few wears. Suspend the pants from a pants hanger by their cuffs, hanging them flat. Lightly touch the head of the steamer to the entire surface of the garment, slowly working your way down each leg and allowing the steam to work out wrinkles. Keep the hose upright as you steam. Repeat the process as necessary; for tough wrinkles and odors, turn the pants inside-out and steam them once again.
Hand-wash your wool pants, if instructed by the label. Fill a sink or a tub with lukewarm water and a bit of mild detergent. Swish the solution, then soak the pants for 5 to 10 minutes. Drain the basin and thoroughly rinse the pants with lukewarm water -- do not bunch or wring them. Spread out a large towel and flatten the pants over it, then roll the towel to wring out the garment. Lie the pants flat in a cool area with plenty of circulation until they're completely dry.
Turn your 100-percent wool or worsted wool pants inside out to begin the machine-laundering process, if the tag indicates that the item is machine washable. Place the pants in a mesh laundry bag and add specialized wool or cashmere shampoo to the machine in the amount recommended by the product's manufacturer. Set the washer to a cold temperature on a woolen or delicate cycle. Hang the pants by the waistband and allow them to air-dry. When the pants are damp, steam them as usual, then allow them to air-dry completely.
Take your wool pants to the dry cleaner only when they are dirty. Like other forms of washing, dry cleaning takes a toll on wool over time; if your pants aren't dirty after a few wearings, don't bring them in. Instead, steam them and air them out. Reserve trips to the dry cleaner for stained or smelly wool bottoms.
References
Writer Bio
With a diverse professional background and a decade of experience as a freelance writer, Dan has contributed lifestyle content -- from fashion to travel to fitness and more -- to publishers including Chron, Fortune, Sony, GlobalPost, ModernMom, Moviefone, Salon.com, Techwalla and dozens of others.
Photo Credits
Slaven Vlasic/Getty Images Entertainment/Getty Images