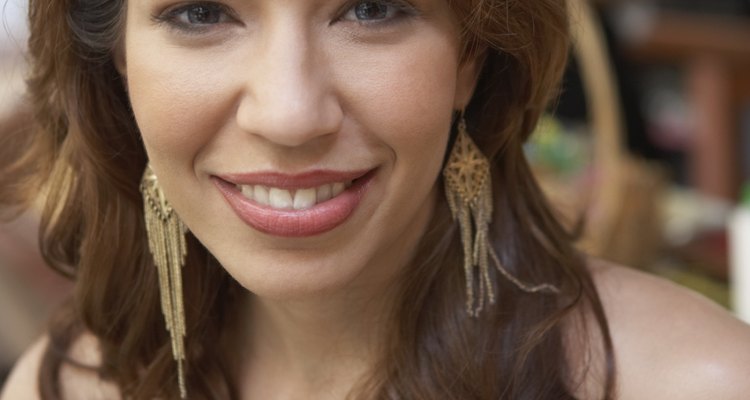 Jack Hollingsworth/Photodisc/Getty Images
A tube dress is a sleeveless dress without straps. With this type of dress, it's ideal to wear a strapless bra underneath it so nothing is showing through. A tube dress leaves a lot of exposed skin, and accessories will help add more to your look. You can overcome the challenge of keeping a tube dress from appearing too casual by pairing it with a jacket, especially if you're going to be out at night. Then choose accessories and shoes to complete your look.
Jewelry
Wear jewelry like necklaces, earrings, bracelets or a combination of them. Pick a necklace or layer necklaces that drape well below the top of your dress for a more flattering look. Big, long necklaces add emphasis and structure to tube tops and tube dresses, which are often simple and form fitting. Choose understated earrings if you have short hair, because wearing large or dangling earrings can be an overkill approach with a necklace. The general rule is to choose one piece of jewelry to emphasize, and then de-emphasize everywhere else. So if you have on big earrings, skip the necklace and vice versa.
Footwear
For a dressed up look, don a pair of heels. For a more casual look, wear sandals in a color that complements your dress. Footwear to avoid with a tube dress would include sneakers or any type of athletic shoe.
Jackets or Cover-ups
A tube dress can be chilly in air conditioning or outside at night, so a jacket can be a smart addition. Choose a jacket appropriate to the weather that also matches the dress. Avoid athletic jackets and go for more traditional, basic styles like long, thin cardigans or beaded shawls.
Tights
Tights can work with a tube dress if the weather isn't too hot and you wear closed-toe heels with the dress. Don't wear tights if you're wearing nude heels or sandals, but, since tube dresses are rarely winter wear, but more often made of lightweight fabrics, steer clear of heavy, dark, opaque tights.
References
Writer Bio
Sheila Zahra began working as an editor and writer in 2004. She has edited full-length works of fiction and nonfiction, and has written articles and essays for academic and business clients. Zahra earned a Bachelor of Arts in English literature and creative writing from California State University, Long Beach, in 2006. She currently lives and works in Eugene, Oregon.
Photo Credits
Jack Hollingsworth/Photodisc/Getty Images