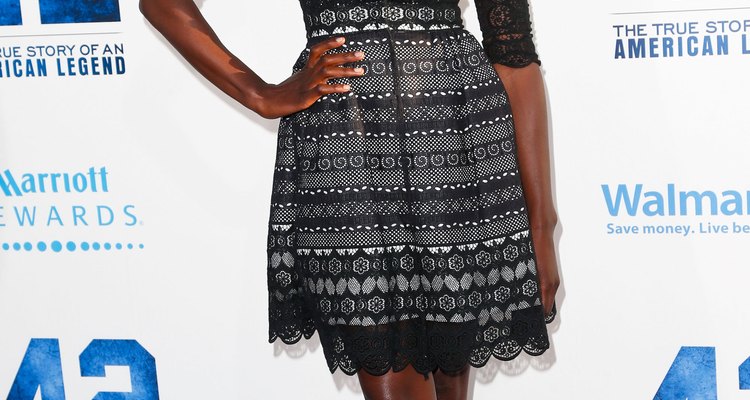 Imeh Akpanudosen/Getty Images Entertainment/Getty Images
The only thing more stylistically inspiring than a little black dress is a little black lace dress. The delicate fabric adds a romantic factor to your ensemble that teeters the line between smoldering sex appeal and girlish femininity. Obviously, choosing a pair of shoes for your already stunning dress can make you feel like your decision will either make or break your completed look, so reach for a few powerful ideas that are sure to wow.
Black and Vibrantly Hued Open-Work Lace-Up Heels
Your black lace dress is the perfect backdrop for a pop of color. Imagine yourself walking into a room in a long-sleeve, round-neck lace dress with a flounced skirt that falls just above your knees. Adding a pop of vibrant color to your getup is a simple way to bring extra interest to a look that may otherwise verge on slightly conservative. Pop your feet into a pair of heels with open work detailing, such as laser cutouts, criss-crossing straps and a lace-up construction at the ankle -- think turquoise and black or fuchsia and black.
Neutral and Black Mary Jane Heels
If you're fond of the precious, girlish factor that is instantly evoked by a dress full of black lace, play up that aspect of your frock with your footwear. Mary Janes are a little girl classic when paired with a dress. However, go for a more grown-up route by reaching for high-heel Mary Janes with a slightly chunky heel. Skip the heavy black kicks, and opt, instead, for a combination of neutrals. Visualize nude shoes with a black cap toe for a charming and cohesive finish.
Contrast Color Pointy Toe Pumps
Your instinct might be to slide your feet into a pair of black pumps, which is a completely reasonable choice. But if you're looking for a showstopper, skip the safe selection and opt for a pair of pointy-toe pumps in a contrasting color, instead. For extreme contrast, go with a pair of ivory or metallic gold pumps-- or, for a more romantic, sultry appearance, stick to wine and berry hues.
Black Peep-Toe Platforms
Maybe you're already planning on carrying an orchid-hued clutch or your dress has some vividly colored detailing. Then again, perhaps your preference is for a sleek, all-black ensemble. Whatever the case, achieve a black-on-black outfit without creating a visually heavy look by opting for black peep-toe platforms. A pair of shoes with tall, slim heels and mini platforms will make your legs look like they go on for days while mirroring the open-work feel of your dress's lace fabric.
References
Writer Bio
Tarah Damask's writing career began in 2003 and includes experience as a fashion writer/editor for Neiman Marcus, short fiction publications in "North Texas Review," a self-published novel, band biographies, charter school curriculum and articles for various websites. Damask holds a Master of Arts in English and creative writing from the University of North Texas.
Photo Credits
Imeh Akpanudosen/Getty Images Entertainment/Getty Images