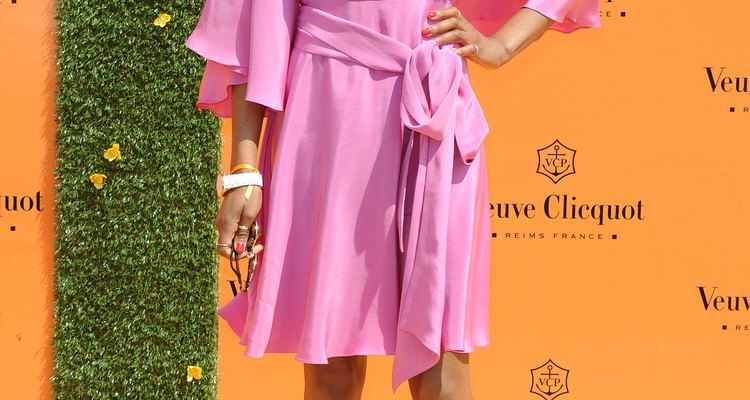 Stuart Wilson/Getty Images Entertainment/Getty Images
The idea that women must wait for a certain month of the year for open toe shoes to become appropriate is as defunct as other out-of-date beliefs. Just like wearing black and brown together is acceptable, if not chic, and carrying a white purse any time of the year is perfectly fine, you can wear open toe shoes whenever you fancy. Simply style around your shoes with some tried-and-true, seasonally appropriate outfits for a confident foray into wearing open toe shoes year round.
Spring Months
As temperatures warm up from winter's frigid days but you're not quite into the heat of summer, look for open toe shoes that ride the line between sandals and closed footwear. Try a pair of espadrilles with chunky, jute- or rope-covered wedges and fabric, leather or suede uppers and a lace-up closure around your ankles. Go for a pair of cuffed jeans and a T-shirt or lightweight sweater to finish your outfit. Or reach for a floral chiffon dress with a round neckline, three-quarter length sleeves and a hem length anywhere from just above your knees to a full maxi-length.
Summer Months
When the weather is hot, reach for a pair of open toe shoes, such as sandals, for a stylish appearance that doesn't result in overheated feet. Look for classic sandals like ones with a T-strap and an ankle strap closure. Or look for sandals reflective of peep-toes. Visualize leather sandals that rise to your ankle with open toes, allover laser cut detailing and a lace-up closure. Add a dress or T-shirt and skirt to the look and you're summer ready.
Fall Months
You're not required to wear tights when fall arrives, but wearing sandals with your ensembles is certainly taboo. Reach for a pair of open toe booties to solve your seasonal dilemma. You can continue displaying bare legs as long as you keep the rest of your body covered up. Visualize yourself in a black, lightweight knit crewneck sweater with a solid-hued skirt in wool or leather. Try a skirt that falls a couple inches above your knees. Add a cropped, black moto-style leather jacket or wool blazer to your look. Slide your feet into black leather, open toe ankle booties and you're done.
Winter Months
If you thought you couldn't wear open toe shoes during the winter, toss those beliefs aside. For an edgy take on the style, imagine yourself in a deep purple minidress with a round neckline and long-sleeves. Pull on black opaque tights and slide your feet into black, platform, high-heeled dress sandals. Add a black topcoat to finish your look. For a more conservative take, reach for a pair of straight-leg or skinny-leg jeans in a dark rinse. Add a navy, cowl-neck sweater on top with a chunky, knit fabric in a length that hits at the top of your hips. Slide your feet into a pair of open toe shooties, a mix of a shoe and boot, or booties with high, chunky heels for the finishing touch.
Writer Bio
Tarah Damask's writing career began in 2003 and includes experience as a fashion writer/editor for Neiman Marcus, short fiction publications in "North Texas Review," a self-published novel, band biographies, charter school curriculum and articles for various websites. Damask holds a Master of Arts in English and creative writing from the University of North Texas.
Photo Credits
Stuart Wilson/Getty Images Entertainment/Getty Images