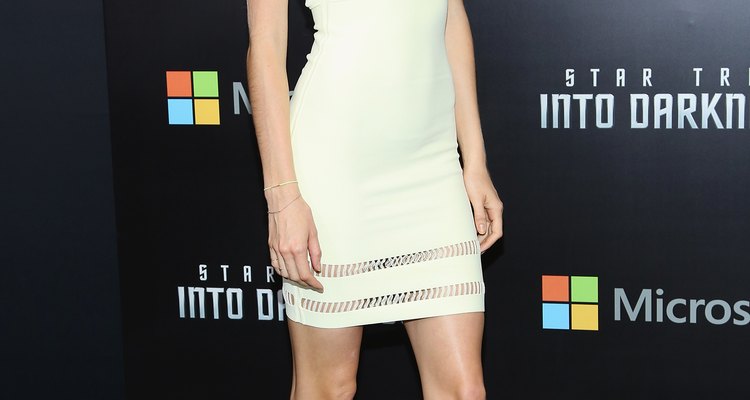 Rob Kim/Getty Images Entertainment/Getty Images
Khaki shoes seem like they should go with just about anything thanks to their neutral color, but when you open your closet doors to reach for an outfit, that subtle footwear may suddenly seem out of place. If you're accustomed to darker shoes or something with a little more visual impact, you just need to begin with some surefire outfit ideas and realize that these shoes are just as versatile as you'd hoped.
Wild Style
When you've pulled together an outfit that includes a super-bold print, the last thing you want to do is add competition with other strong pieces or accessories. Women, imagine you're wearing a leopard print dress to brunch with friends. Colorful shoes seem more appropriate for a night out while black is super safe. Pop on a pair of khaki ballet flats instead for a chic finish. Or, men, perhaps you've found a graphic T-shirt with an allover abstract print. Add dark rinse blue jeans and a pair of khaki driving moccasins so onlookers notice your top rather than a too-busy ensemble.
Classic Prep Pieces
Finding an incredible pair of chinos that you can wear from casual to somewhat dressy occasions is like a dream come true. Trying to find shoes that make those pants look cool instead of conservative is the tricky part. Test out a pair of khaki-hued chukka boots. Women, consider a pair with a wedge sole for an extra stylish kick. Men, a pair of leather or suede chukkas with a contrasting sole color, such as red or blue, creates a fashion forward look. Khaki shoes will blend with any color chinos, from navy to gray to toffee. Throw on a classic V-neck sweater or white button-front shirt and you're done.
Dressy Ensembles
The right color footwear can make or break a dressy ensemble, which is why having a pair of khaki shoes on hand at all times is an intelligent move. This light-hued neutral works with just about any color you can imagine and tends to remain out of sight so your outfit remains the focal point. Women, perhaps you've found your dream dress in a combination of pale and bold blues; rather than trying to match your dress or making the look heavy with black shoes, reach for a pair of khaki-hued pumps. Men, when you've grown tired of wearing black shoes with your navy or gray suits, or if you're simply looking for a way to tone down your appearance, opt for khaki Oxfords every time.
Americana Attire
In reflection of the rugged, toned-down neutrals that give Americana styling its fresh personality, khaki shoes are an ideal match. For example, a white or light blue denim sundress works with just about any pair of shoes. However, for a slightly rough-and-tumble meets pretty look, pop your feet into a pair of khaki oxfords and cover your eyes with tortoise-shell sunglasses. Or, both men and women can enjoy the luxury of starting a wide variety of outfits with a pair of straight-leg blue jeans and khaki shoes, from moccasins to simple boots or Oxfords. Add an unstructured cotton shirt, such as distressed chambray, or a cotton-poly blend T-shirt in white or heather gray. Swap out your tops with the same jeans-and-shoes combination for a versatile wardrobe.
References
Writer Bio
Tarah Damask's writing career began in 2003 and includes experience as a fashion writer/editor for Neiman Marcus, short fiction publications in "North Texas Review," a self-published novel, band biographies, charter school curriculum and articles for various websites. Damask holds a Master of Arts in English and creative writing from the University of North Texas.
Photo Credits
Rob Kim/Getty Images Entertainment/Getty Images