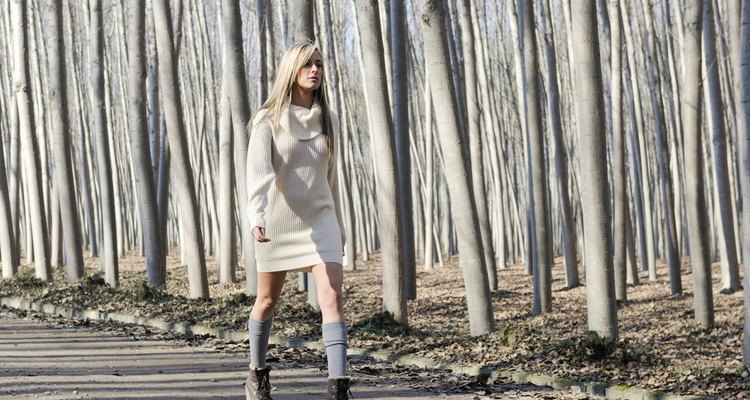 javi_indy/iStock/Getty Images
A few fashion rules have been left behind over the years, including the age-old adage to never wear white after Labor Day. However, winter white is an elegant, slightly creamy shade that transitions into any season with the right footwear and styling. Since winter white is such a stunning color, choosing the right footwear is all about bringing balance to your style and your body shape.
Black and White Cookie
Bring back the glamour of the '60s with a mix of winter white and black. Pair a winter-white knee-length dress with a pair of black tights and some black ballet flats or black suede pumps. This look gives you dimension and breaks up the black and white blocks to create a balanced silhouette. You can also skip the tights entirely and pair some black pumps with the winter-white ensemble -- just be sure to pull it all together with a black handbag.
Top to Bottom
Unlike black and white, wearing white from head to toe requires a consistent winter-white shade. Soft, off-white suede knee-high boots create a long silhouette with a winter-white trench coat. Alternatively, pair some pointy-toed winter-white stilettos with matching trousers or pencil skirt for an edgy office look. Avoid Mary Jane shoes or round-toe shoes that create too much of a nurse or orderly effect.
Spring Splash
Even winter white lends itself to spring and summer festivities. Metallic sandals and strappy high heels in gold, copper and silver bring a sophisticated, elongating splash of style to any winter-white clothing. Wear metallic stilettos or sandals with off-white trousers or long skirts. Stilettos also pair beautifully with summer dresses that hit to the knee. Warmer weather outfits also allow for bright orange, pink and turquoise sandals that add some warmth to a winter-white ensemble.
Winter Warrior
Black or cranberry boots pair beautifully with a winter-white dress. Shorter combat boots paired with geometric patterned or black tights will balance out a winter-white dress, shorts or skirt. Taller, knee-height boots with a slight heel in chocolate brown, black, cranberry or gray add drama. Always remember to pair some matching dark tights with this look to create a seamless transition from the top half to the bottom half, particularly in chillier weather.
References
Writer Bio
Sarah Vrba has been a writer and editor since 2006. She has contributed to "Seed," "AND Magazine," Care2 Causes and "202 Magazine," among other outlets, focusing on fashion, pop culture, style and identity. Vrba holds an M.A. in history with an emphasis on gender and fashion in the 19th century.
Photo Credits
javi_indy/iStock/Getty Images