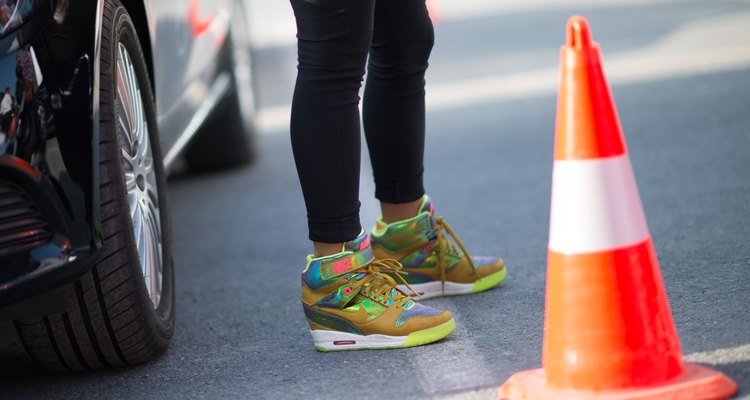 Timur Emek/Getty Images Entertainment/Getty Images
Nike makes high-top athletic shoes for both men and women. These are intended to be worn as fashion statements rather than as true sports gear. High-tops can be worn for any occasion where casual style is acceptable. Don't make the mistake of thinking that they're sloppy, however; think trendy, young and sharp instead.
Jeans and Leggings
Any color of Nike high-tops can be paired with a stylish pair of blue jeans. Any cut is acceptable. You can also wear high-tops with chinos or khakis, especially if they're rolled or cuffed. Women can also wear high-tops with close-fitting leggings. In this case, stick to a neutral color such as black, white or gray. Jeggings -- jeans leggings -- also work well here. Choosing neutrals helps to showcase your shoes. Men and women can also opt for leather pants plus high tops for a casual evening outfit.
Ladies Only: Hemlines
You can wear a pair of Nike high-tops with a skirt. Short hems are less risky and allow you to show off both your legs and your choice of footwear. Don a plaid wrap skirt or a clingy knit or, if you're looking to experiment with casual style, wear high-tops with a maxi-dress for an interestingly edgy contrast.
References
Writer Bio
Lori A. Selke has been a professional writer and editor for more than 15 years, touching on topics ranging from LGBT issues to sexuality and sexual health, parenting, alternative health, travel, and food and cooking. Her work has appeared in Curve Magazine, Girlfriends, Libido, The Children's Advocate, Decider.com, The SF Weekly, EthicalFoods.com and GoMag.com.
Photo Credits
Timur Emek/Getty Images Entertainment/Getty Images