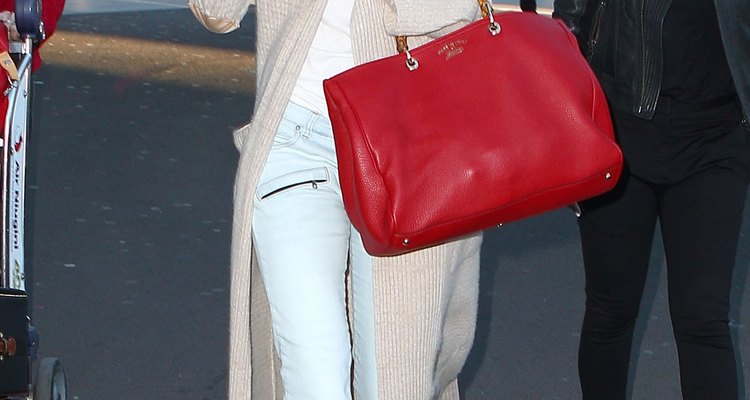 Marianna Massey/Getty Images Entertainment/Getty Images
Boots are a winter-wardrobe staple and an investment piece that you'll want to have on hand for several seasons. It only makes sense, then, to purchase a pair that is classic and neutral-hued so that your boots can be worn with a variety of outfits. Tan boots can be paired with black, brown or bright colors, making them a savvy and oh-so-chic investment.
Pair With a Tailored Blazer
The equestrian-inspired ensemble is a classic for good reason: It's comfortable, casual and easy to pull off. Tan riding boots are the best style to incorporate into this look. Try wearing your flat, tan boots with a navy schoolboy-style blazer, a white button-down blouse and dark denim jeans or khakis. In the fall or spring when the weather is mild, layer on a lightweight, earth-toned scarf that complements the tan hue of your boots.
Tuck in Skinny Jeans or Leggings
Since you've invested your hard-earned money into a pair of tan boots, you'll want to show them off to their full potential. Wear a pant that is cut slim enough to be tucked inside of your boots, such as a pair of skinny jeans or denim leggings. Dark denim and black are the best shades to choose for pants, as the light tan of your boots will pop in comparison. Be sure not to attempt this look with flared or boot-cut pants -- the extra fabric will cause your boots to look bulky and bunched.
Punch Up a Skirt or Dress
A knee-length skirt or a miniskirt is ideal for showcasing your tan boots. If you're wearing knee-high boots, leave a few inches between the top of your boot and your skirt's hem to let a bit of skin show. Or, choose an ankle style of boot to pair with a longer skirt. Keep in mind that a high-heeled tan boot will help to elongate your your legs, making your figure appear long and lean. During the colder months, black, brown or nude opaque stockings will pair well with your boots. If you choose a solid skirt in a neutral color, you could also wear a patterned stocking, such as argyle or houndstooth.
Complement a Monochromatic Look
An all-black or all-ivory outfit looks sleek and urban. But to add dimension to your look, be sure to off-set the monochrome with a pair of tan boots. It is best to choose a knee-high or mid-calf style to balance out the colors. This combination works very with with a black dress and black opaque hosiery or off-white skinny jeans and a matching sweater. To further accessorize, add gold jewelry to either monochromatic outfit for a hint of glam.
References
Writer Bio
Leigh Shan has been writing about beauty, health, fitness, home and small businesses since 2007. Her work has been published in "The Queens Courier," "Queens Business Today" and "The Real Deal" newspapers, as well as "The World Scholar" magazine. Shan holds a Bachelor of Arts in journalism from Fordham University in New York City.
Photo Credits
Marianna Massey/Getty Images Entertainment/Getty Images