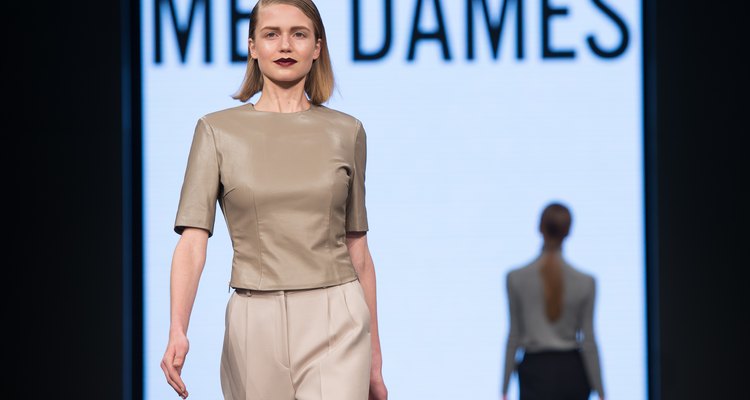 Ian Gavan/Getty Images Entertainment/Getty Images
You might find neutral colors like tan and light brown a bit tricky to style, but you can sport these hues in a number of incredibly chic and fashionable ways. For instance, while a combination of black and brown was once a frowned upon sartorial no-no, new trends in fashion have changed the tides. It's time to mix things up. The key to successfully wearing these shades lies in using various tones and textures.
Pair With Whites
Shades like white, off-white and cream look chic and sophisticated when paired with tan and light brown colors. Giving off an equestrian vibe, this color combination is equal parts preppy and stylish. Camel coats have been seen on countless runways, so for cooler weather, pair a wool, camel coat with white trousers and a crisp, white button-down shirt. For women, a white sheath dress will look great with a pair of high-heeled, tan boots. A men's button-down shirt in a cream color can easily be paired with light brown pants for a cool and collected look.
Pops of Color
While tan and light browns pair best with other neutrals like beige and black, in some cases, a pop of color is key. A tan dress can be spruced up with turquoise heels and a matching clutch. Men can pair light brown pants with a cobalt blue button-down for a look that's sophisticated and stylish. Pastels and other soft shades also work well with light browns and tans. A peach or mint-colored blouse or button-up worn with a pair of tan pants will be fashionable for all seasons.
Head to Toe
As with black and white, tan and camel are tones that look great when worn from head to toe. However, those with fair skin should avoid wearing colors like beige, while medium skin tones will want to avoid lighter browns, each of which can cause a washed out look. Demure silhouettes such as silk, slip dresses or other monochromatic tan ensembles are a chic and refreshing way to wear the shades. A satin tan cami or tank top tucked into a pair of trousers in the same tone is a chic option for women, while a tan suit will bode well for men. Gold jewelry and nude shoes pair wonderfully with this color palette.
Accessorize
If tan and light brown clothing aren't for you, ease into the trend by incorporating accessories like tan or light brown shoes or wallets into your wardrobe. Dresses in bright shades will look great with a tan pair of heels for women. Similarly, a light brown belt on a pair of men's jeans will prove stylish yet safe. While intimidating to some, tan, beige and other shades of brown can be fun to wear and may even prove to be an integral part of the most fashionable of wardrobes.
References
Writer Bio
Sara Cantu has been writing fashion and lifestyle articles since 2009. As a fashion stylist, writer and blogger, she has been published in "Lady Couture" magazine and "RGV" magazine. She holds a Bachelor of Arts in journalism from The University of Texas - Pan American.
Photo Credits
Ian Gavan/Getty Images Entertainment/Getty Images