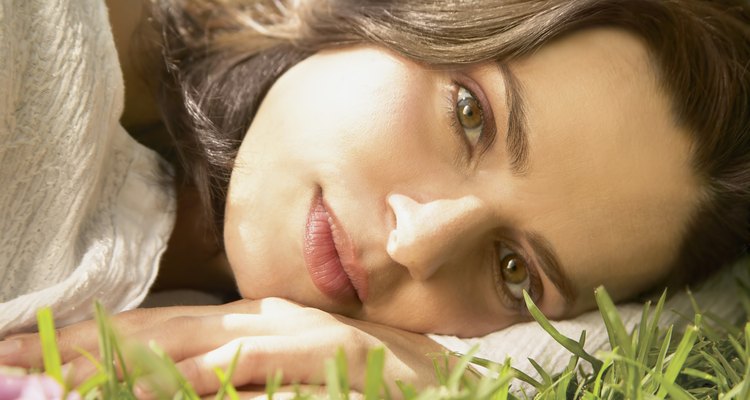 Plush Studios/Blend Images/Getty Images
Like hair color, the color of your eyes are one of those attributes that give you character and distinction all your own. While wearing certain eye makeup colors can further enhance your eye color, the color clothing you choose to wear can have the same effect. Dark and sultry brown eyes benefit from a host of colors, however it's the type of shade within a color family to take note of.
Blues
If you ever want a fail-proof way to enhance your beautiful brown eyes, you should frequently lean toward the color blue. Blue in practically any hue looks fabulous with brown eyes because of the extreme contrast it creates (the reverse is true for blue-eyed girls), making the eyes appear lighter. Soft pastel and icy blues offer coolness to your smoldering dark eyes, while turquoise, cobalt and ocean blue-greens are vibrant enough to give brown eyes life. Additionally, rich blues like navy, midnight and indigo offer just enough color to make them a great alternative to basic black clothing.
Reds
Red is a fun and flirty color, however not every shade of crimson is best for brown-eyed beauties. A rich eye color like brown needs a red that has undertones of yellow to bring out the hints of gold in many brown eyes that give them a lighter, even hazel appearance. True red is ideal because it is vibrant enough to contrast with your brown eyes, and it contains the aforementioned yellow undertone. Other good news about red is that variations on the color are also flattering, such as orange-red or even a slightly burnt red with flecks of gold.
Greens
Wearing the color green when you have brown eyes has an effect similar to that of the color blue. The extreme contrast creates the illusion of lighter eyes, especially if you opt for bolder shades of green, like Kelly green or the yellow & green combo that is chartreuse. Other types of green complement brown eyes as well, such as deep olive and hunter green. Quick tip: dark eyes appear lighter than they naturally are when surrounded by colors that offset them.
Golds
When it comes to light colors, gold is ahead of the pack at flattering your brown eyes and bringing out the lighter flecks that may happen to be present. Pale gold doesn't do much to bring out the beautiful brown color of your eyes, so this shade should be avoided. Instead, opt for warm gold that sparkles because it is a perfect complement to brown, whether it is of a dark or light hue. Yellow gold is another shade that flatters your brown eyes because it is vibrant and appealing at the same time.
References
Writer Bio
Danielle Jennings began writing professionally in 2005 and is an expert in fashion, entertainment and lifestyle journalism. She has written for "Jezebel," "Creative Loafing" and "Haute Living." She attended Clayton State University, earning her bachelor's degree in communications and media studies.
Photo Credits
Plush Studios/Blend Images/Getty Images