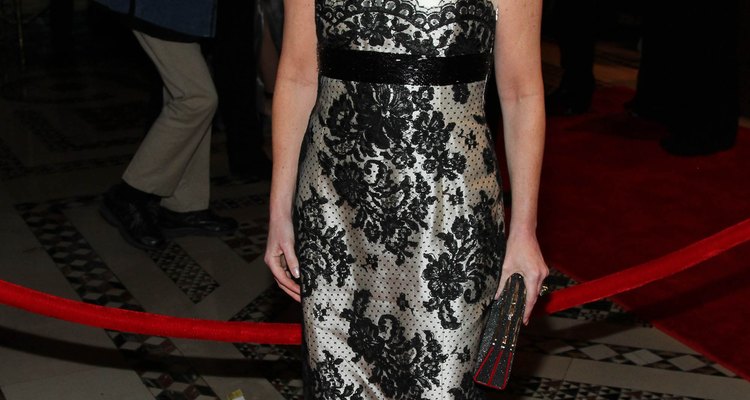 Rob Kim/Getty Images Entertainment/Getty Images
Worn together, black and white make a simple yet dramatic statement. When you're sporting the classic "spectator" look in a dress and shoes, a necklace should be in a color that complements rather than clashes. White or black jewelry may seem natural but tends to blend in and become lost, so consider better matches such as red, purple, blue or silver. Because context and harmony matter in color choice, select shades that complement your skin tone and make your appearance eye-pleasing rather than jarring or boring.
Seeing Red
The audacious, look-at-me quality of red is a natural fit for the more reserved power of black with white. When adding this in-your-face primary color to your visual palette, restraint is key. A red statement necklace gives a strong pop and allows for other touches of red elsewhere, such as a bracelet, cocktail ring, earrings, even a purse. From cherry and fire engine to blood and brick, there's a shade of red for every skin tone. If you're in a gemstone state of mind, rubies with a hint of blue in the red are a versatile choice.
The Blues
Even more so than red, blue offers ample room for variations in shades and tones. Medium blue, also called true blue, is a primary color. You can choose a necklace that contains a deeper blue, such as royal, for cooler months or a lighter blue, such as turquoise, in spring and summer. Blues tend to mediate the stark contrasts between black's absence of color and white's saturation of color. Sapphire is a rich blue gemstone that looks good with black and white.
Purple Reign
Rich, dense colors rather than pale hues tend to go better with black and white. Purple, a secondary color achieved by mixing red and blue, is an attractive match with black and white. A deep shade of purple, such as grape or eggplant, gives a subtle color contrast that is in comfortable proximity to black on the color spectrum. Amethyst in deeper shades is ideal if you want to wear a necklace that has precious gems. The necklace's setting should be silver, platinum or white gold, as cool metals complement black and white better than warm metals, such as yellow gold.
Stylish Silver
Silver is a natural metallic color that plays more of a supporting role to black and white than do true colors, such as red, blue and purple. There's leeway to wear a lot more of it without upstaging the dress. Also, metallic jewelry tends to reflect light and illuminate the skin. For an office-ready black-and-white shift or wrap dress, consider a chunky sterling silver chain. If you're attending a gala ball and your gown is strapless, a lacy silver bib is appropriately luxurious and elegant.
References
"More Alive with Color"; Leatrice Eiseman; 2007; page 41
"The Jeweler's Directory of Gemstones"; Judith Crowe; 2006; pages 49, 51, 67
Writer Bio
LaMont Jones was an award-winning fashion and beauty editor for a decade at the "Pittsburgh Post-Gazette." A five-time nominator and judge of the CFDA Awards, he covers New York Fashion Week regularly. Jones is a 2011 inductee into the Pittsburgh Fashion Hall of Fame and coaches fashion models.
Photo Credits
Rob Kim/Getty Images Entertainment/Getty Images