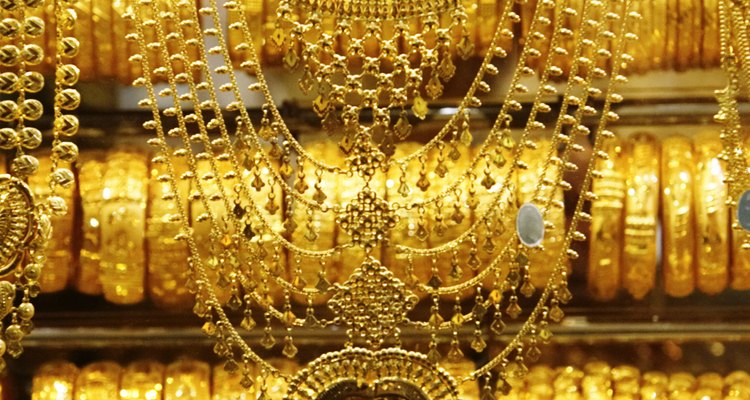 Sam Robinson/Photodisc/Getty Images
Jewelry is a finishing touch that should -- like other fashion accessories -- enhance your overall look. For every evening outfit, some types of jewelry complement while others clash. With something as unconventional as a mocha evening gown, options ranging from yellow gold and bronze to coral and wood take your formal frock from ordinary to outstanding.
The Beauty of Mocha
Mocha is a deep, rich brown that became popular in fashion during the coffee craze in the 1990s along with brown shades such as coffee, cappuccino and espresso. Mocha is an earthy and elegant alternative to the predictability of black and the ostentation of red in formal wear. Though more subdued than most colors, it can still convey evening glamour, especially in floor-length satin and with the right jewelry.
Precious Metal Adornment
Nighttime is the right time to accessorize with the gleam of yellow gold, bronze or copper. They are warm metals that naturally complement the warmth of mocha and other browns. Wear just one of them or any combination for distinctive looks. If your gown is sleeveless, consider a large cuff or stacked bracelets. For designs that are strapless or have plunging necklines, a large statement necklace can make a strong visual impact. Chandelier earrings or shoulder-dusters can be a strong focal point, allowing for simpler jewelry elsewhere on the body.
Stone and Wood Designs
Precious stones can also be a lovely complement for a mocha satin gown, giving the look a more organic or bohemian feel that is still polished. Coral in deeper shades of red, for example, adds a warm pop of color. Try it in an oversized cocktail ring or set in yellow gold or other warm metals in a necklace. Jade can also be a nice and less-expected pairing, as well as white, gold or champagne pearls for a soft and elegant contrast. Wooden earrings, necklaces and bracelets in soft, polished geometric shapes lend an exotic touch. Light and medium shades of wood provide a better contrast than dark woods such as ebony.
Avoiding Jewelry Missteps
Sterling silver, white gold and platinum are cool metals that tend to clash with warm colors such as mocha. The contrast can be glaring and cause the jewelry to outshine the dress -- a fashion no-no. Turquoise and other blues can be too much of a contrast unless used sparingly, such as in a ring or combined with other colored stones in a necklace. A total brownout can be boring and lackluster, so avoid overdosing on brown stones and gems such as citrine, amber, tiger's eye and brown diamonds and quartz.
References
Writer Bio
LaMont Jones was an award-winning fashion and beauty editor for a decade at the "Pittsburgh Post-Gazette." A five-time nominator and judge of the CFDA Awards, he covers New York Fashion Week regularly. Jones is a 2011 inductee into the Pittsburgh Fashion Hall of Fame and coaches fashion models.
Photo Credits
Sam Robinson/Photodisc/Getty Images