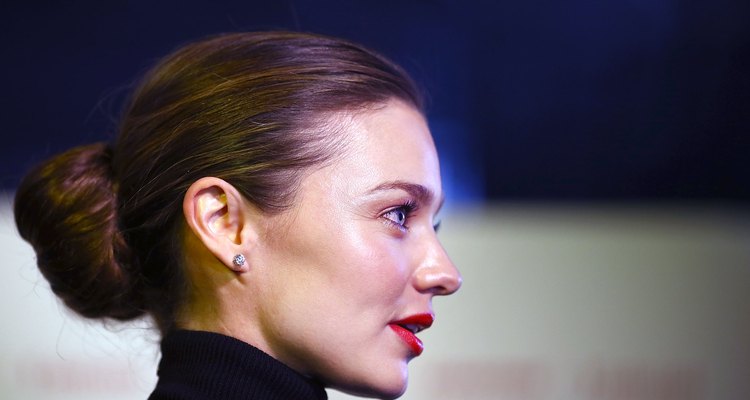 Marianna Massey/Getty Images Entertainment/Getty Images
Although jewelry is typically the smallest portion of your outfit, it can be the most confusing. It's not always easy to know when to wear silver, gold, gemstones or pearls. This is especially true when you are styling a neutral color, like gray, and a near-neutral shade like navy blue. It's better to let the style set the tone rather than the color when accessorizing neutrals.
Evening Accessories With Navy Blue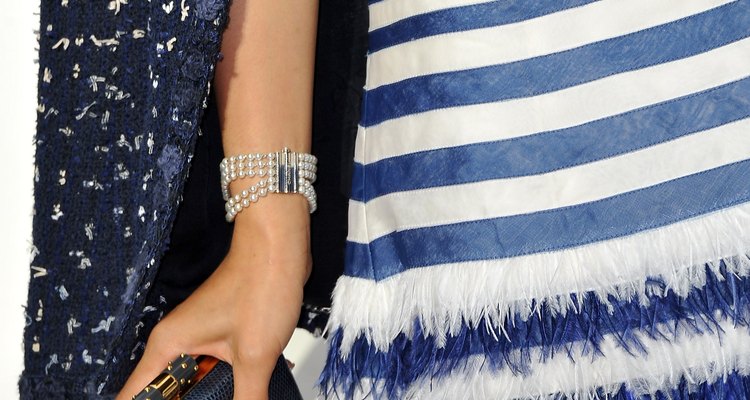 Pascal Le Segretain/Getty Images Entertainment/Getty Images
A navy blue cocktail dress is a striking alternative to the little black dress, especially if you have blue eyes or a cool skin tone. Navy blue is rich, regal and classic, so wear jewelry of the same nature. A delicate pair of diamonds in any style that sits close the lobe -- studs, rose-cut drops, pave ball studs -- are a gorgeous touch to a navy blue dress. Wear a lace overlay sheath dress with nude shoes and simple sparkly studs and you are styled to perfection. A navy blue dress accessorized with pearls -- whether earrings, a necklace or bracelet -- amounts to regal style that exudes a quiet confidence.
Daytime Jewelry With Navy Blue
Stick with simple classic jewelry during the day, like silver, gold or mixed metals, in minimalist styles. A navy- and white-striped cropped tweed jacket over a white V-neck with a pair of boyfriend jeans coupled with a pair of thin gold hoops and a gold chunky watch is a stylish, put-together look. When wearing a solid navy outfit that is daytime casual, it's fun to wear jewelry in colors on the opposite side of the color wheel, such as orange, or complementary colors like turquoise. A turquoise cuff or loop dangle earrings with a navy blue A-line jersey dress lends itself to accompanying jewelry in gold, silver or both.
Evening Accessories With Gray
Andreas Rentz/Getty Images Entertainment/Getty Images
It doesn't get much sleeker or chic than a gray cocktail dress. While this pale neutral shade packs a big punch, it does have its limitations when it comes to jewelry. Stick to cool tones -- preferably silver or diamonds -- to keep the style understated and elegant. A Grace Kelly inspired mid-calf full skirt in gray with a crisp white button down with French cuffs looks dazzling with a pair of sterling-silver and diamond teardrop chandelier earrings. Lighter silver-toned jewelry will pop against a darker gray dress or outfit, while metallic grays are contrasted beautifully by matte silver accessories.
Daytime Jewelry With Gray
Now that gray is the new must-have neutral, it's easy to incorporate it into a variety of daytime looks. A gray V-neck t-shirt is a wardrobe staple for under a black blazer, with a pair of vibrant skinny pants or your favorite blue denim. Some staple jewelry to match the style is a chunky wire-wrapped smokey quartz ring, a pair of hammered-metal teardrop earrings and a stainless steel boyfriend style watch. Anything gray you pull out of your closet to wear to the office or out with friends will work with any of these accessories. Gray during the day is a safe neutral that supports either warm- or cool-toned jewelry -- or a clever mixture of both.
References
Writer Bio
Angela Bakke is a Los Angeles-based writer and reporter with more than a decade of experience covering fashion, beauty, the arts and entertainment. She has interviewed some of the most famous people in the world and covered stories for Beyond Cinema, Hollywood.com, ReelzChannel, CNN.com and Celebs.com.
Photo Credits
Marianna Massey/Getty Images Entertainment/Getty Images