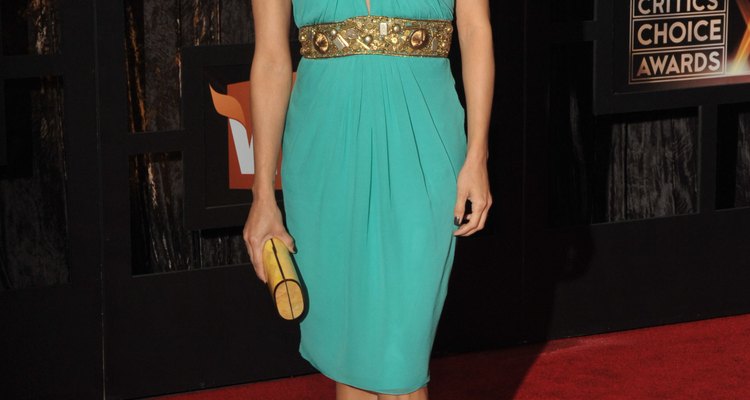 Frazer Harrison/Getty Images Entertainment/Getty Images
Few colors can claim they complement other shades while standing equally strong on their own, but teal is one such hue. A stunning combination of blue and green, teal is seen in both fall and spring fashions and works well with everything from understated neutrals to bold brights. Work in an eye-catching teal accessory to complement your wardrobe or rock it from head to toe -- the stylish combinations are virtually endless.
Neutral Territory
Statement clothing items are offset beautifully by light neutrals -- think white, ivory, cream or beige. Pair dressy teal trousers with a silky, ivory, button-down blouse, or wear a teal shift dress with a nude skinny belt and beige patent-leather pumps. Teal works equally well with darker neutrals like gray and black. Slip on a charcoal pantsuit with a teal tank or shell for just a hint of color, or wear your little black dress with some simple, silver jewelry and finish the look with a teal, crocodile-embossed, leather satchel popping against the black.
The Bright Side
Teal's green-blue hue has an uncanny ability to function as a type of neutral when paired with bold, bright colors. Rock a pair of teal skinny jeans, a white tee and a bright-fuchsia blazer for a vibrant ensemble ideal for a casual dinner date or shopping with friends. Teal also works well when you wish to colorblock an outfit. Try teaming cobalt shorts with a V-neck teal tee, tan flat sandals and an armful of colorful bangles. You can also look for patterns and prints that mix teal with brights -- think tangerine, marigold and chartreuse -- for even bolder pairings.
All That Glitters
Add extra polish to teal ensembles by offsetting with metallics. Gold adds warmth and richness to teal pieces, while silver, graphite and pewter bring out the color's blue tones. For dressy glam, wear a silk teal sheath, gold and crystal dangling earrings and a thick gold cuff; complete the ensemble with brushed-gold strappy heels. Or, rock a downtown-chic look with dark-wash skinnies, a teal doman-style top and layers of mixed-metal chains. Finish with black moto-style boots studded in studs for extra edge.
Top to Bottom
A monochromatic teal look is a sleek approach when you're looking to pack a fashion punch. Pick separates like tapered teal trousers and a strapless corset top in the same hue -- or rock a teal button-down with a pencil skirt in a shade or two darker. To break up the monochrome just a bit, opt for nude or black heels or ballet flats. When wearing a teal jumpsuit or cocktail dress, carry the look through your footwear, but seek out different textures. For example, a teal frock with a lace overlay is offset nicely with teal suede pumps.
References
Writer Bio
Stacey Kole was managing editor of the International fashion and beauty publication Savvy where she penned stories on all things beauty and style, while writing cover stories on such celebrities as Victoria Hudgens and Julianne Hough. She continues to write for a variety of online fashion, beauty and health publications.
Photo Credits
Frazer Harrison/Getty Images Entertainment/Getty Images