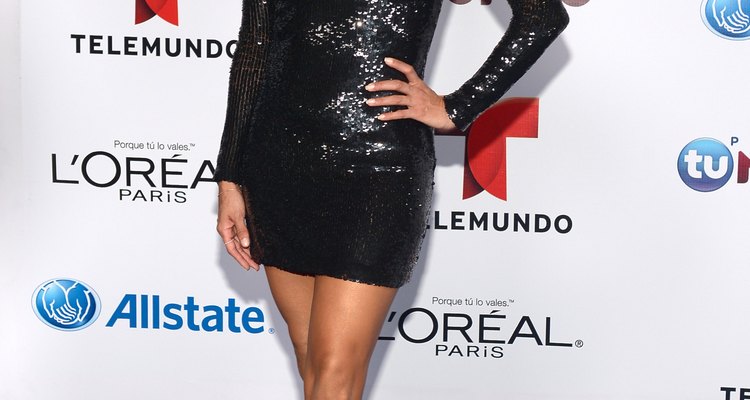 Gustavo Caballero/Getty Images Entertainment/Getty Images
When you're wearing a sequin dress, all eyes are sure to be on you. That makes choosing the right accessories and accompanying pieces even more important -- and difficult -- than with a more subtle outfit. Since sequins are so bold and eye-catching, you should allow the dress to stand on its own by keeping the rest of your look more low-key. That doesn't mean that you can't have fun styling a sequin dress -- you just need to consider the location or event to make sure that you're dressed appropriately.
Keep It Simple
When you're wearing a sequin dress, its shine and sparkle inevitably make it the focal point of your outfit; loading up on statement accessories easily can make you appear over-dressed. Instead, keep your look simple and understated. Don't pair your dress with a clutch and shoes in matching sequins or rhinestones and avoid large, heavy jewelry. Delicate stud earrings are a better match with a sequin dress than a dramatic chandelier style. If your dress is strapless or features a scoop or V-neck, a simple pendant necklace with a thin chain works well. You can also skip a necklace and wear a single cocktail ring with your dress. When choosing jewelry pieces, though, opt for metal over gemstones to avoid competing with the sparkle of your dress.
Add Elegance
While a sequin dress can be striking, it can sometimes have a Vegas-showgirl vibe. To make sure that you look classy and not trashy, incorporate accessories that give the dress a more elegant feel. Pearls are an ideal option when you want to make sure that your sequin dress looks sophisticated. Wear a pearl choker or princess-length necklace with a strapless, scoop or V-neck dress. If the top of your dress features a higher neckline, opt for a strand of opera or rope-length pearls. Simple pearl stud earrings can also help add some elegance to a sequin dress.
Play With Texture
When it comes to choosing shoes and a bag to pair with your sequin dress, choosing materials with a similar shine or sheen to the sequins can make you look overdone. Instead, use striking textures for your shoes and bag to add visual interest to your outfit. You might wear your sequin dress with black suede shoes and a matching clutch. If the sequins are a neutral color like black or silver, you can also play with color -- pair it with a red velvet handbag to make your dress pop. Even basic leather heels that feature interesting cutouts or patterns across the surface can work well with a sequin dress and add dimension to the overall look.
Go Casual
Usually, a sequin dress is saved for special occasions and evenings out. However, you'll get more use out of your dress if you find casual ways to style it. Throw on a denim jacket, textured tights and motorcycle boots for dinner with friends, or slip a dark T-shirt over your frock and use the bottom portion of the dress as a skirt. For a business-geared cocktail party, pair your sequin dress with a fitted black blazer and ballet flats for a chic, wearable look.
References
Writer Bio
Based in New York City, Jennifer Blair has been covering all things home and garden since 2001. Her writing has appeared on BobVila.com, World Lifestyle, and House Logic. Blair holds a Bachelor of Arts in Writing Seminars from the Johns Hopkins University in Baltimore, Maryland.
Photo Credits
Gustavo Caballero/Getty Images Entertainment/Getty Images